Mt. Everest glacier lost 2k years worth of ice in the last three decades
Posted by Jimmy Cooper / February 10, 2022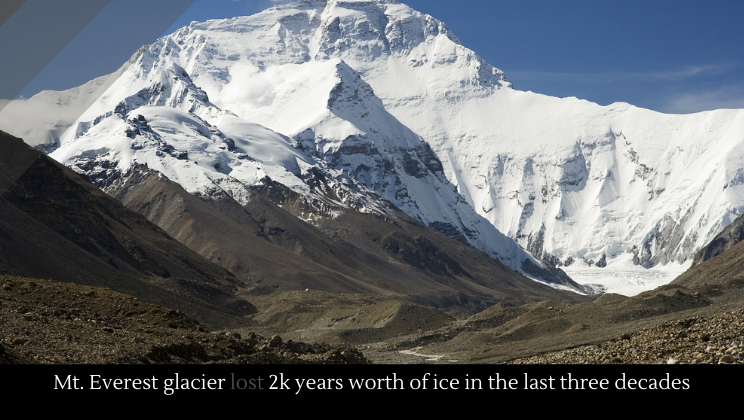 The highest glacier on Mt. Everest has lost 2,000 years worth of ice in the last three decades.
A report by the New Climate Institute accuses top companies like Facebook, Apple, and Google are not changing quickly enough to slow climate change, and what's worse they're exaggerating their progress.
All of the snow at the Beijing Olympics is human made, a bad sign for both the climate and future winter Olympics. The Great Salt Lake is disappearing, which could lead to a major ecological disaster. New research suggests that the extreme heat in the oceans passed the point of no return in 2014, meaning warmer oceans are now the new norm.
Last year, climate change-related disasters cost the world some $100 billion. Record temperatures topping 67º F hit Alaska this month, setting a record for December. The weather has led to torrential rain, and raises the possibility of major flooding as the climate continues to warm.
According to the annual Global Carbon Budget Report, the planet has eleven years to avoid dire climate scenarios.
The largest delegation at the COP26 climate conference is affiliated with the fossil fuel industry. Perhaps this is why Greta Thunberg has called the COP26 climate conference a failure. "It is not a secret that COP26 is a failure. It should be obvious that we cannot solve a crisis with the same methods that got us into it in the first place," she said. As if to make her point, Japan has refused to sign the statement on ending the use of coal-powered plants.
The CEO of Exxon has been accused of lying to Congress about his company's knowledge of its contribution to climate change––and its attempts to cover that all up.
A major document leak has revealed that wealthy nations like Saudi Arabia, Japan, and Australia (among others) are pressuring the UN to slow their shift away from climate change. Wealthy nations are also questioning why they should pay poor countries to shift towards green technologies.
A metastudy of of nearly 90,000 climate studies reveal that 99.9% of studies agree that humans caused climate change, effectively quashing the argument that there's any kind of debate.
A Sudden Stratospheric Warming event may be on the way this winter, a phenomenon in which the Polar Vortex is disrupted and extreme weather strikes in unusual places––like the winter storm in Texas last year.
North Dakota is in the midst of a drought so bad that it is being compared to the Dust Bowl, threatening the livelihood of ranchers and famers.
More than two feet of rain fell in Italy in a single day, the first time that's happened in European history. Nobel prize winner Giorgio Parisi, an Italian, has called climate change a "huge threat" to humanity.
Hundreds of thousands of people around the globe have taken to the streets to call for systemic changes for the climate. The WHO said that air pollution is among the biggest environmental health threats, leading to 7 million premature deaths every year.
Joe Biden has a different concern, though. With climate change causing increasingly extreme weather throughout the United States, President Biden is planning to address heat related deaths
The world has lost half of its coral reefs since the 1950s, according to a recent study. More than 220 medical journals have warned that climate change is causing such harm to peoples' health that we cannot wait for the pandemic to end before taking drastic action. Scientists have warned that a glacier in the Canadian Rockies is melting faster than it ever has in recorded history. This year's heat waves and wildfires have caused massive ice loss, potentially disrupting the local ecosystem for generations to come.
Meanwhile, all national forests in California have been closed until September due to the state's "wildfire crisis," according to the U.S. Forest Service. The hope is that closing the forest will prevent more fires and keep firefighters safe and able to concentrate their efforts on preexisting fires.
The deadly flooding in Germany last month was fueled by climate change, according to a recent study. Last week, for the first time in recorded history, rain fell instead of snow on Greenland's summit two miles above sea level.
In an another alarming first, federal officials declared a first-ever water shortage in the Colorado River, which fills the lake Mead reservoir serving Arizona, California, Nevada and Mexico. It is little wonder levels are low––according to NOAA, July was Earth's hottest month on record.
Researchers have suggested that climate change may cause a potentially irreversible shift in ocean currents in the Atlantic, which would lead to sections of North
More news.