Mueller probe submitted to attorney general: what you need to know
Posted by Thomas Bush / March 24, 2019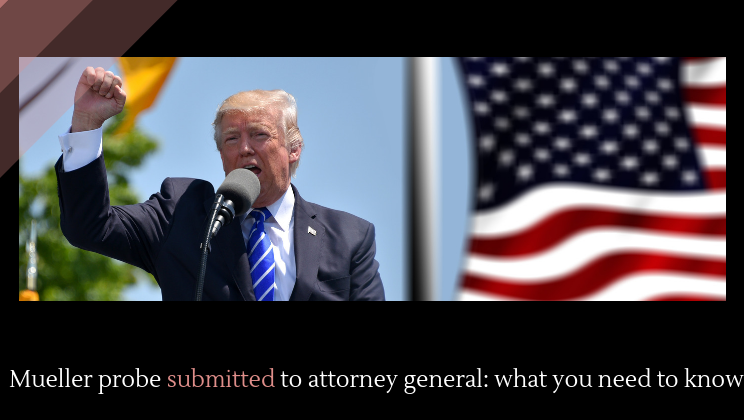 For two years, the Mueller investigation has been a dark cloud over the Trump administration. This week, we saw the first rays of sunlight as Mueller submitted his report to at Attorney General William Barr. Now that the report is submitted, there are a lot of questions that need to be answered:
What next?
First, AG Barr will consult wit Deputy Attorney General Rod Rosenstein and Mueller himself to determine how much of the report will go to Congress and how much will go to the public. Until then, we have to wait to see what the report contains. Adam Schiff has already threatened to subpoena the report if necessary.
So is Trump guilty or what? 
Well, firstly, there will most likely not be additional charges.  So those of you hoping for Trump to be led out of the White House in handcuffs will probably be disappointed. Whatever is in the report will undoubtedly get folded into contemporary political debates. Unfortunately, unless the report is incredibly decisive, both sides of the aisle will probably use the report to justify their own points.
What was the point of this, anyway? 
For the "lock him up" crowd, this report may be a let down. Some may question the usefulness of the report. But there are two things everyone needs to keep in mind. First, several people have been indicted with crimes as a result of this report. Second, this report shows that the system does work, even if some don't like the results.
More news.