National morale low as election nears
Posted by Ivan Vaquero / July 28, 2020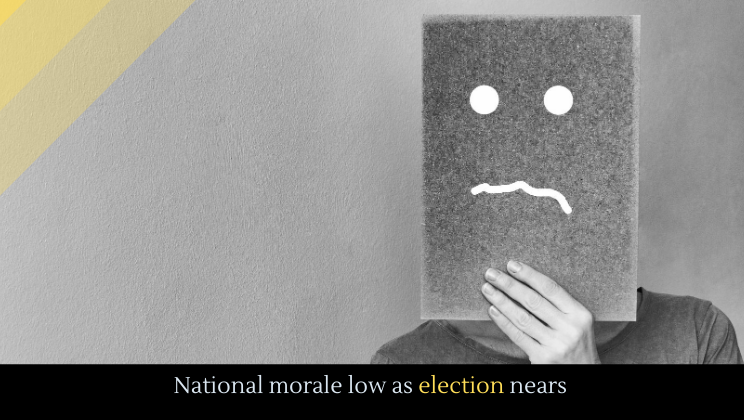 It's 100 days until the presidential election in November, and the nation's mood is bleak. A whopping 80% of Americans think the country is heading in the wrong direction, and Americans' sense of the economy and Trump's job performance is correspondingly low. The nation's low morale is evident in Trump's poll numbers, which are not good at all. In fact, he's currently trailing Biden in Florida. No Republican has won the presidency without that state in nearly a century.
In response to the low numbers, Donald Trump has demoted his campaign manager Brad Parscale. This news is the latest sign that the Trump campaign is, in the words of a recent Hill piece, flailing. That's because things have been going horribly for him. New polls show that Donald Trump's approval rating is plummeting. Some 67% of Americans disapprove of Trump's COVID response. Interestingly, Trump's support among Republicans is dropping––78% of Republicans approve of his COVID handling, down from 90% a month ago. Trump's base, white Americans without a college degree, are split: 50% disapprove and 49% approve. Americans are also deeply skeptical of Trump's handling of race relations: 78% of Republicans approve, but a whopping 91% of Democrats disapprove. Among Independents, 74% disapprove. Finally, 59% of Americans think the push to open the economy is moving to0 quickly.
These numbers are low, we're talking one-term president territory. H.W. Bush had a 38% approval rating in late June of his final year in office and Carter had a 31% approval. Trump's approval rating, as of June, was 38%.
Donald Trump's much-hyped return rally in Tulsa was dud. The venue could hold nearly 20,000 people, but only about 6,00 showed up. Trump was allegedly furious about the poor turnout. Trump's campaign tried to spin the poor attendance, but even Fox News didn't buy it. The mayor of Atlanta called the event an embarrassment. That rally also led to a spike in COVID cases, which is going to lead to still more bad press for Trump's typical campaign style.
More news.