New York COVID cases are highest yet
Posted by Thomas Bush / December 19, 2021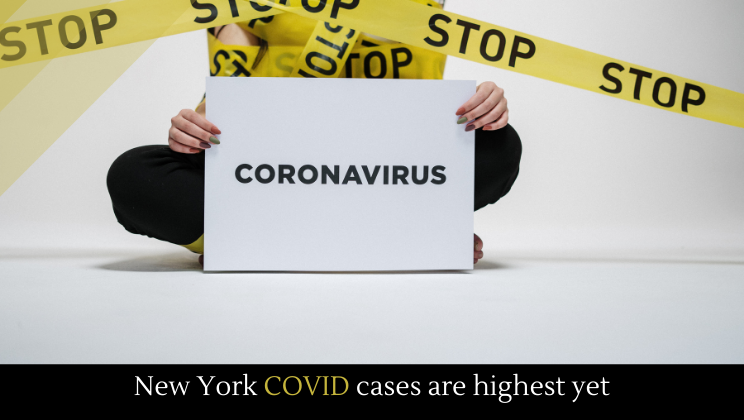 New York is reporting more COVID cases than it has at any other time during the pandemic.
The Omicron variant grows 70x faster than the delta variant, which may account for its fast spread.
In the final analysis of its COVID pill, Pfizer says the drug is highly effective, even against Omicron, and it should be released before the end of the year.
Before Omicron, Pfizer reported a 90% reduction in hospitalizations and death in high-risk COVID patients.
In terms of the vaccine, Pfizer's CEO announced that the government ordered enough COVID vaccine doses for every child aged 5 to 11 in the country. That's about to be put to the test––kids have started getting the COVID vaccine.
The Biden administration, anticipating a green light, began packing and shipping vaccine doses for kids before approval was even granted. Earlier this week, an FDA advisory panel unanimously recommended (including one abstention) that kids aged 5-11 get the low-dose version of Pfizer's vaccine. Now, the FDA has authorized the vaccine for that age group. Almost one month ago, Pfizer sent data tot he FDA in order to get approval for vaccines among children 5 to 11.
Last month, Pfizer and BioNTech announced that they were planning to ask regulators for approval to administer vaccines to children older than five. If granted, that should help reduce the risk COVID poses to school children.
According to the WHO, COVID will continue to mutate––just as the flu does––and it's therefore going to be here to stay. Moderna is actually developing a single-dose booster shot that will cover both the flue and COVID.
The US has hit a new COVID milestones: 40 million cases. And the Delta variant is only just warming up––the former commissioner of the FDA has said that we haven't seen the real Delta surge yet. It will come, he suggests, after Labor Day travelers spread the variant.
More news.