Northeastern U dismisses 11 students for COVID violations, keeps tuition
Posted by Thomas Bush / September 11, 2020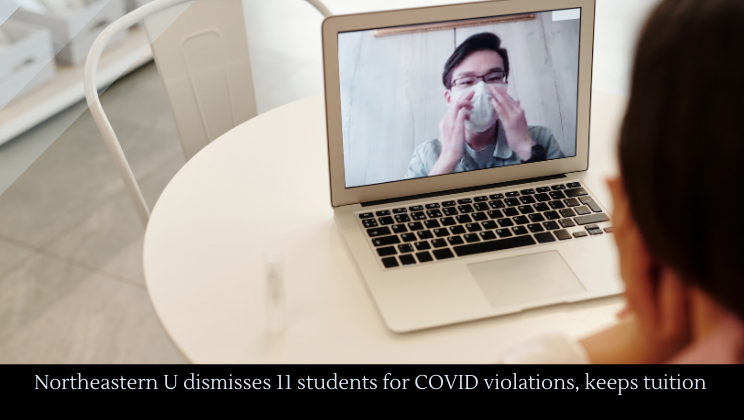 Northeastern University has dismissed 11 first-year students for violations to their COVID safety policy, and Northeastern kept their tuition money.
It's probably better that than the alternative…The University of Alabama has reported more than 500 cases since classes resumed. Now, the university is attempting to keep news of the outbreak silent––administration sent an email to professors not to speak of it to students or media.
Things are not going well this fall. An Iowa child has died of complications relating to COVID. The child died in June, but the child's death was not made known until this weekend. The news comes at a very unfortunate time: Iowa schools are reopening, and reopenings are not going well. Notre Dame and UNC-Chapel Hill have both canceled their in-person classes after failed attempts to get back to normal. UConn is booting students out of their dorms after footage surfaced of them partying without protection.
The World Health Organization has warned that asymptomatic young people are primary spreaders of COVID-19. At Ohio State University, an entire sorority house is in quarantine after twenty-three sisters tested positive for COVID-19. A Nebraska school district has canceled classes after staff members came down with COVID-19.
Arizona teachers aren't going to risk that kind of nonsense. More than 100 teachers have called in sick in one district, forcing the district to cancel its plan to reopen Monday. An outbreak in a Mississippi elementary school has also led to a shutdown.
Texas, meanwhile, is actually trying the ostrich method of dealing with COVID: they're simply not going to track COVID data.
Going back to school at all might be a fools errand. About 40% of COVID tests come back too late to be useful. In other words, even if students are getting tested regularly, they're results are coming back too late to inform their actions. At big party schools, it's hard to imagine that students will even worry about tests. They'll be too busy drinking and partying in incredibly close proximity. It's only a matter of time before these big universities suffer massive COVID outbreaks.
More news.