Notre Dame survives fire, French billionaire pledges €100m
Posted by Catherine Reed / April 16, 2019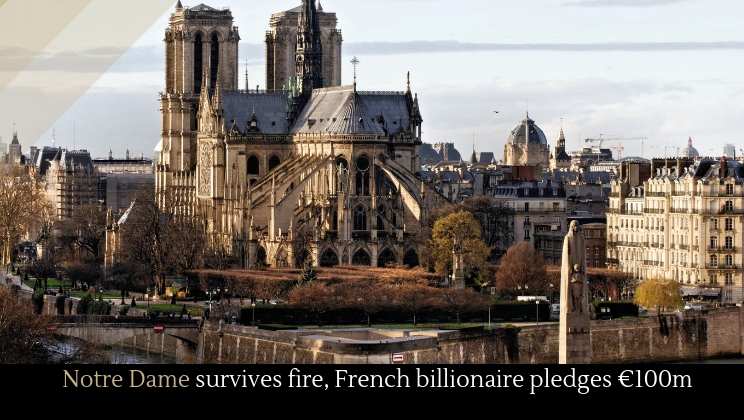 The world very nearly lost one of its greatest treasures on Monday, when the Notre Dame cathedral in Paris caught fire. The landmark was undergoing renovations, which may have been the cause of the fire.
The fire began around 6pm in Paris. It took nearly 500 firefighters some five hours to contain the blaze, which at times illuminated the skyline spectacularly, leading many onlookers to believe the cathedral would not survive. One of the spires collapsed, but two were spared. Nearly 2/3 of the roof were destroyed. Parisians waited anxiously in the streets while firefighters battled the blaze. The firefighters did drop water on the blaze from airplanes, which American president Donald Trump advised. French officials noted that doing so would likely destroy the entire cathedral.
French president Emmanuel Macron has initiated a national fundraiser to restore the cathedral. Mean, Francois-Henri Pinault, French billionaire, has pledged one million euros to the cause.
The cathedral was completed in 1260, and it has come to occupy a crucial place in the hearts and souls of Parisians. Many gathered outside the burning cathedral to sing "Ave Maria." Many onlookers openly wept as they watched nearly 800 years of history come within inches of destruction.
More news.