Overdoses are so high that they're dragging the average US life expectancy down
Posted by Josh Taylor / December 2, 2018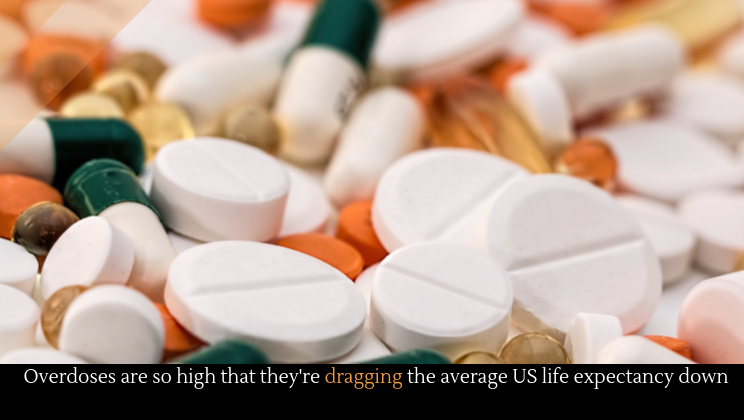 The average life expectancy in the United States is declining, largely due to the "staggering" rise of overdose deaths. According the New York times article cited above,
 New numbers Thursday from the Centers for Disease Control and Prevention show that drug overdoses killed more than 70,000 Americans in 2017, a record. Overdose deaths are higher than deaths from H.I.V., car crashes or gun violence at their peaks. The data also show that the increased deaths correspond strongly with the use of synthetic opioids known as fentanyls.
NPR also reports that the rise in suicides has contributed to the decline in the average life expectancy:
At the same time, suicide rates have also steadily increased, according to the CDC, making it the 10th leading cause of death in the U.S. — and the second most common cause of death for people ages 10 to 34. That age range dovetails with the data on drug use, which showed people age 25 to 54 dying at higher rates than their older counterparts.
The situation is so extreme that Dark Web dealers are voluntarily banning the sale of fentanyl. This is not necessary out of magnanimity or benevolence. Rather, dealers are fearful that the government is soon to crack down on the sale of these drugs.
More health news.