Pacific ocean acidity now dissolving some crabs' shells
Posted by Annie May / January 29, 2020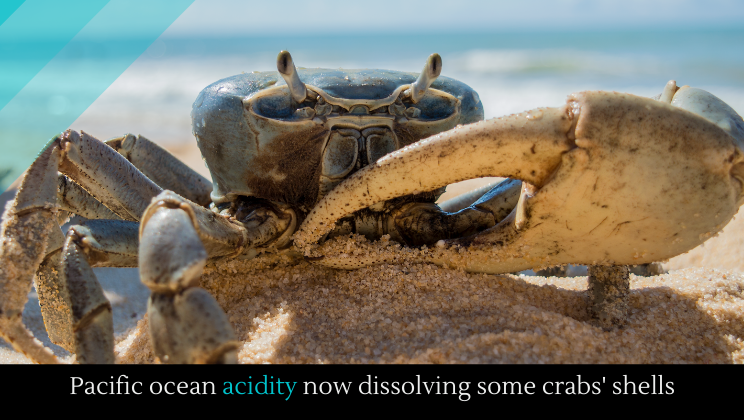 The Pacific Ocean absorbs carbon dioxide emissions, which lowers the pH balance and acidifies it. Because those emissions have been been rising steadily, the ocean is getting increasingly acidic. And now, Dungeness crab shells are dissolving.
The platypus is on the "brink of extinction," say researchers. Their numbers have been declining since Europeans arrived in Australia, to which they are endemic. With the recent droughts in Australia, the animals are in even graver danger.
Fortunately for heat- and fire-stricken Australia, the rains have come. Unfortunately, that means there ash is being rinsed into the rivers, resulting in the deaths of hundreds of thousands of fish. What's worse, these kinds of cascading catastrophes are likely the norm.
Although climate scientists are not surprised by fact that fires are sweeping through Australia, they are surprised by the magnitude of the fires. Basically, the fires are far bigger and more devastating than expected. And this is a sign of things to come, they claim. The extremity of these droughts and fires are our new normal. There is no going back. If we don't stop changing the climate, things are getting worse.
The fires have caused untold devastation and political turmoil. An Australian firefighter was caught on video refusing to shake the Prime Minister's hand, an embarrassing rebuke for a Prime Minister already on the ropes because of his handling of climate change.
Australia is literally burning to the ground. The images coming out of the country depict "armageddon." An estimated 500 million animals have been killed in the fires. The fires are so bad they're creating their own weather. Thousands of Australians are trapped on beaches trying to escape the fires, which are now approaching Melbourne suburbs. Elsewhere, in villages in the state of Victoria, citizens are being warned that it's too late to escape, and they must stay inside.
The fires are creating smoke plumes larger than Europe. Seventeen people have died so far. But, in a sign of the unwillingness of the Australian government to confront the climate catastrophe, the Prime Minister said that there is "no better place to raise kids" than Australia. And if that weren't bad enough, he is busy spending his time hosting cricket teams than dealing with the crisis.
The scenes on-the-ground have compared to a war zone, half a billion animals have been killed, people are dying, and the long-term health impacts from the fires will unfold over the next decades. If there is any doubt that climate change is impacting the world, then hopefully this tragedy puts an end to it. Political leaders should take note, lest they end up embarrassed by their own people.
More news.