Pelosi vs. Trump: what the media is saying
Posted by Josh Taylor / January 17, 2019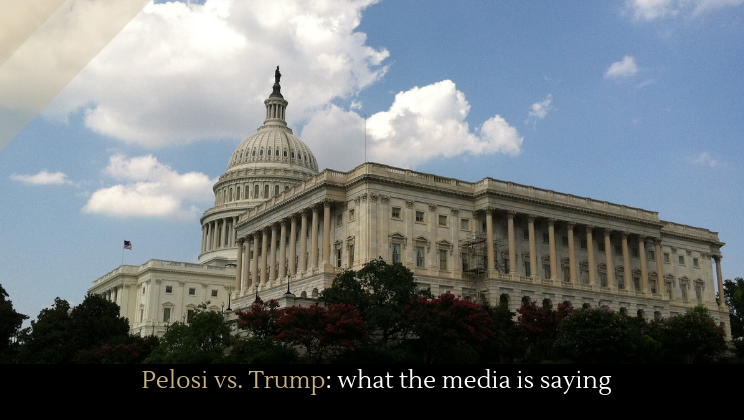 As we saw in the presidential debates leading up to the 2016 election, Donald Trump is both a bully and hard to bully. But has he met his match in Nancy Pelosi?
Politico says:
Pelosi privately refers to Trump as the "Whiner in chief." She's questioned his manhood. She calls out Trump's lies to his face and openly wonders whether he's fit for the job. She mocks Trump for his privileged upbringing and his lack of empathy for the less fortunate. She jokes with other senior Democrats that if the American public saw how Trump acts in private, they'd "want to make a citizen's arrest."
But she doesn't just talk a big game. She's just ask Trump to reschedule the State of the Union Address. In her letter to Mr. Trump, Pelosi wrote: "Sadly, given the security concerns and unless government reopens this week, I suggest that we work together to determine another suitable date after government has reopened for this address or for you to consider delivering your State of the Union address in writing to the Congress on Jan. 29." The New York Times comments:
The request was a bracing piece of theater, even in a presidency that has bent so many historical norms. Ronald Reagan postponed his 1986 address after the Challenger space shuttle exploded. Franklin D. Roosevelt transmitted a written message in 1944 as his health began to fail. But Mr. Trump had no intention of giving up the spotlight.
The Washington Post notes:
If the government stays shut down, Pelosi would deprive Trump of the spotlight he craves. To a president especially sensitive to acts of disrespect — and one with a hearty appetite for pomp and circumstance — the so-called unvitation was not merely a ­power play. It was a calculated personal slight.
More politics.