Petition to remove Marjorie Taylor Greene from House gets 100k signatures
Posted by Annie May / May 27, 2021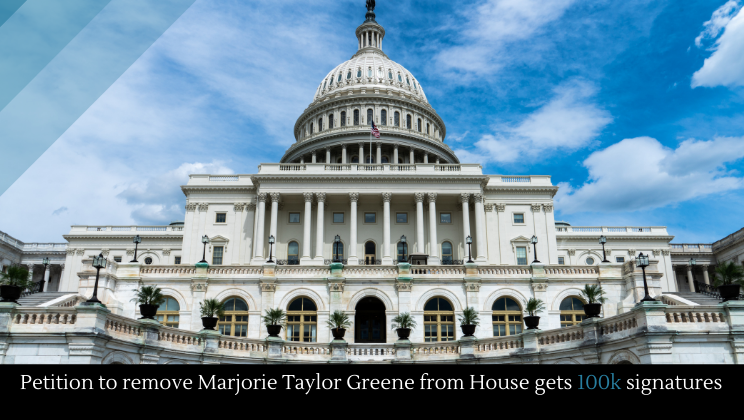 A petition to remove Marjorie Taylor Greene from the House of Representatives has garnered over 100,000 signatures after she compared wearing masks to the Holocaust.
The beleaguered Greene also defended Capitol rioters as the Republicans try to block an investigation into the riots. Her defense is very "on brand." After the incredible negative backlash against the proposed "America First Caucus," Marjorie Taylor Greene is trying to put as much distance between herself and the caucus as possible, basically denying she had any plans to launch anything.
Republican congressman Adam Kinzinger has called for the expulsion of Marjorie Taylor Greene and her "America First Caucus," which Kinzinger called the "white supremacy caucus."
After House Republicans refused to take action on Marjorie Taylor Greene, House Democrats forced a vote to strip her of all committee standings.
House Democrats singled yesterday that they would strip Marjorie Taylor Greene of her committee assignments as Mitch McConnell distances mainstream GOP from her. All of this comes as Salon released a 2019 video of Greene calling for a violent insurrection at the Capitol.
Republicans in the House of Representatives are facing pressure to eject Marjorie Taylor Greene, a lawmaker infamous for making racist statements, calling school shootings fake, and supporting the QAnon conspiracy theory.
A prominent Republican donor and activist named Jacob Monty, an immigration lawyer, has left the party. "If you stay in the Republican Party," he said,  "you have to pay homage to Trump and I don't do that, I don't pray to any man."
More news.