Pope criticizes Russian Orthodox Patriarch for supporting Ukraine war
Posted by Thomas Bush / September 15, 2022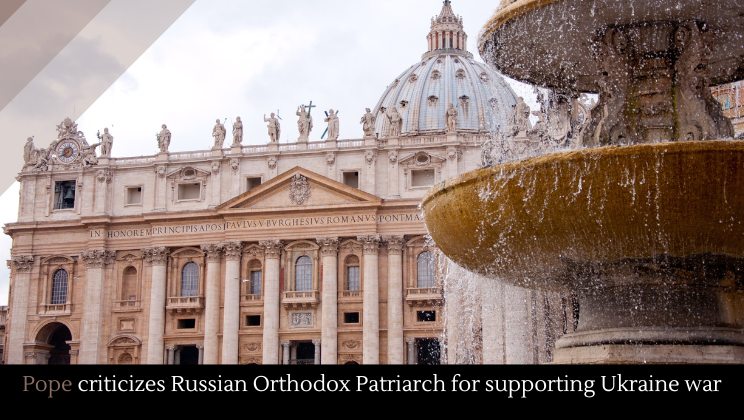 The Roman Catholic Pope has criticized the Patriarch of the Russian Orthodox Church (their equivalent of the Pope) for supporting the Ukrainian war.
NATO has asked its allies to send winter uniforms to Ukraine as the season begins to change. The United States is set to send Ukraine another $3 billion in aid.
Turkey has sent 50 mine-resistant vehicles to Ukraine, and it will send more in the future. Ukraine has received more rocket launchers from the United States and Germany. President Zelensky has said that the Ukrainian army is losing around 30 soldiers per day, compared to the 100-200 at the beginning of the war. 3The UK government announced that it will send both artillery and drones to Ukraine. Zelensky's office has also confirmed that the United States will train F-15 and F-16 pilots.
The Ukrainian defense minister has announced the country hopes to build a "million-strong army" to beat back the Russians.
The Russian military is beginning to amass reserves on the Ukraine border. Two-hundred Russian soldiers have been killed and another 300 wounded following a Ukrainian attack on a Russian base.
A Canadian fighting for the Ukrainian army has issued a plea for more weapons and money (to buy weapons).
Two weeks ago, Australia sent ammunition to Ukraine, in response to Zelensky's pleas. Ukraine was reporting a shortage of ammunition, threatening to halt their defense against Russia. International governments have so far been generous with weapons. Poland has announced that it will sell $650m worth of heavy weapons, including self-propelled Howitzers, to Ukraine.
Sweden and the UK have also joined a growing list of countries sending another round of advanced weapons to Ukraine. Spain is sending state of the art, German-designed tanks to Ukraine to help fight the Russian invaders. Germany has announced that it will send modern anti-aircraft missiles and radar systems to Ukraine. The United States will also be sending Ukraine medium-range rockets, according to President Biden.
The Russians, by contrast, are beginning to struggle in terms of weapons. The Ukrainian military says it has destroyed an ammunition depot as the fighting in Donbas intensifies. Such destruction has led Ukrainian military analysts to conclude that the Russian military has depleted its modern military equipment. Russia has more woes than just equipment. Over a hundred Russian national guard soldiers have been fired for refusing to fight in Ukraine.
Russia's parliament has eliminated the age limit for military service as they scramble for more soldiers. The Russian military is also offering bonuses four times bigger than a soldier's monthly salary.  British military intelligence has estimated that Russia lost a third of its invasion force.
Alexander Lukashenka, the dictatorial leader of Belarus, has admitted that the Ukraine war is not going according to plan.  The German industrial giant Siemens is planning to leave Russia after almost 170 years, as a result of the Ukraine war.
The Russian finance ministry has admitted that western sanctions are threatening the country with economic collapse.
Vladimir Putin's $989 million megayacht has been seized in Italy. In terms of such seizures, Chuck Schumer said that the United States will sell seized Russian oligarch's assets to benefit the Ukrainian war effort.
More news.