The presidential debate was so bad organizers will redesign
Posted by Thomas Bush / October 1, 2020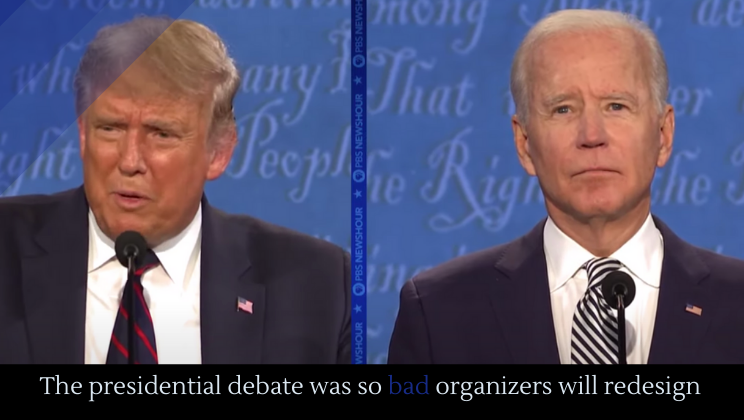 You didn't to watch more than, say, fifteen seconds of the presidential debate on Tuesday to get a sense for just how truly catastrophic they were. ABC called it the "worst presidential debate in history," Even Mark Hamill chimed in, saying it was worse than the Star Wars holiday special––a special he was in! The Lincoln Project, a group of anti-Trump Republicans, said that Trump "collapsed in front of the whole world."
One of the things that made it so horrible was Trump's incessant interruptions. No one was safe, not Biden and not Chris Wallace. Combined, he interrupted them a total of 128 times––and those were the rules he agreed to! 
Things were so bad, in fact, that the organizers of the debates are going back to the drawing board to redesign the debates' format and rules. The number one things Twitter users want is clear: mute buttons. I think it's fair to say that most viewers were screaming at their TV, "MUTE HIM!"
The result of the debate are fairly clear: Trump came out looking like an immature bully, and Biden came out looking relatively good. Undecided voters thought so, in a poll. Time will tell if Trump's embarrassing performance sticks.
More news.