Proud Boys leaders jailed before trials
Posted by Catherine Reed / April 20, 2021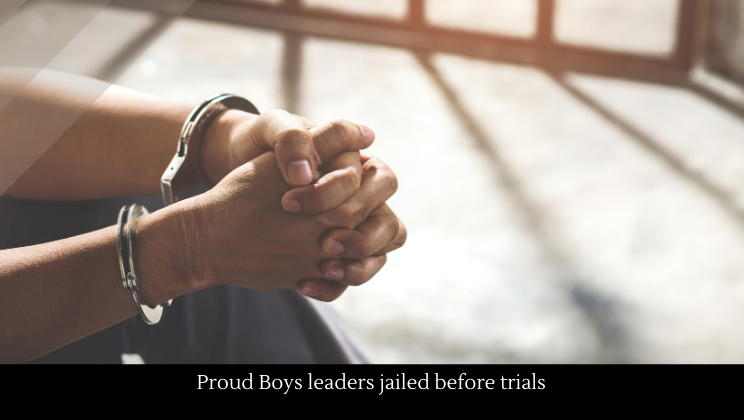 A federal judge ordered two Proud Boys leader to be jailed before their trials, overruling another judge who sentenced them to home confinement.
One of the participants in the US Capitol riots has been jailed before his trail after a failed attempt to flee to Switzerland.
Two police officers are suing Donald Trump for physical and emotional injuries suffered as a result of the Capitol riot.
One of the prosecutors investigating the January 6 riots says that Trump could be culpable for the riot since so many of the rioters said they were taking Trump's orders.
Christopher Miller, Trump's former acting Defense Secretary, says that Trump's January 6 speech incited the Capitol riot.
Eric Swalwell, a Democrat House impeachment manager and homeland security committee member, has filed a federal lawsuit claiming that Trump, Giuliani, and Mo Brokes (an Alabama representative) should be held liable for the January 6 capitol riots.
A grand jury is also being convened to possibly indict Trump for his alleged voter fraud in Georgia during the 2020 election.
Donald "Grab her by the p***y" Trump may also face allegations of rape––under oath. If he is deposed, his accuser will be there. "I am living for the moment to walk into that room to sit across the table from him," E. Jean Carroll said, "I think of it everyday."
Those are not the only allegations Trump is going to have to deal with. While President, Trump earned $1.6 billion in outside revenue and income, and a large chunk of that came from the properties that he himself visited while in office.
Immediately after the election, Trump has raised $207 million for the alleged purpose of fighting voter fraud, but he has only used about $8 million. Trump is set to leave the White House with $850,000 of campaign rally debts. Some cities, like El Paso, are planning to bring the Trump campaign to court to get their money.
There has been speculation that, this whole time, Donald Trump was "very aware" that he lost the election, but he allegedly put up a fight as a "performance". Some 80% of Trump's supporters think that Biden's win was illegitimate. This has terribly implications for our nation. If we lose faith in our system, our system collapses. Now that Trump has no real chance, let's see how he and his followers deal.
About a week ago, Trump began to openly admit that Biden won the election, in his own, petty way. He couldn't do it immediately or risk losing face with his supporters. Around the same time, the Trump campaign has dropped its ridiculous lawsuit demanding a ballot recount in Arizona, after they realized that the margin of victory could not be overcome.
We wonder how much money Trump made from his "election fraud defense fund," which he used to fundraise for his own legal fees pay off campaign debts. Will it be enough to pay off that $850,000 bill?
More news.