Putin optimistic about North Korea relationship
Posted by Robert Leonard / September 14, 2023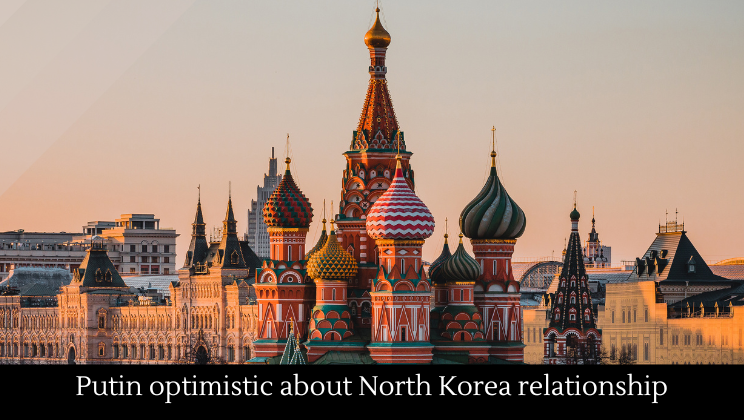 Putin is optimistic about a deal with North Korea, following a meeting with Kim Jong Un.
Speculation that Kim Jong Un was going to visit with Putin to talk about North Korea supplying Russia with weapons began last week.
The Ukrainian counteroffensive has turned a corner, with its troops punching through Russia's first line of defenses in the south.
The United States is confirming Ukraine's progress in its counteroffensive.
As further evidence of the Ukrainian counteroffensive's success, they have just retaken a village that may pave the way for the recapture of crimea.
The United States will give another $250m to Ukraine in military aid.
Moscow is tapping the last of its well-trained reserves as the Ukrainian counteroffensive gains momentum.
Russia is sinking its own ships to protect a vital bridge from Ukraine's sea drones. Those drones are proving to be very effective—Russia claims that Ukrainian drone struck a railway station.
The US said that Ukraine's counteroffensive is making progress.
So many Russian mines have been placed in Ukraine that the country is desperately seeking help.
Russia has vowed retaliation after Ukraine launched a fresh assault on the Crimean bridge.
Ukraine has accused Russia of targeting rescue workers with missile strikes.
Russia attacked Ukrainian troops with chemical weapons, according to recent evidence.
A Ukrainian woman, allegedly working with or for the Russians, has been arrested in a plot to assassinate Ukrainian President Zelenksy. Moscow is trying to convince Russians to move to war-torn Mariupol. Russia has bombed a Ukrainian blood transfusion center.
Russia has bombed more Ukrainian grain stores. Global grain prices rose1 17% as Russia attacked another Ukrainian grain supply.
Russia has bombed a grain storage depot. Russian bombs have damaged a Ukrainian cathedral in Odessa that is listed as a Unesco world heritage site. The US says cluster bombs are making a difference in Ukraine. Ukraine intelligence has confirmed that Wagner troops have rejected the option to join the regular Russian army and moves to Belarus.
The Wagner group rejected Putin's offer to join the Russian army. The boss of the Wagner group has returned to Russia and reclaimed confiscated weapons—although recent US intelligence suggests that he may never have gone to Belarus in the first place. In fact, intelligence suggests he may have met with Putin after the mutiny. Putin is allegedly purging his military of suspected traitors. Charges have been dropped against the rebellious Wagner boss.
The Wagner mercenary boss tried to call Putin when he thought his rebellion had "gone too far," but Putin allegedly ignored his call.
The UK is considering preparing for a scenario in which the Russian federation collapses. This follows the Wagner group halting its aggression against Moscow less than 24 hours after declaring open rebellion against the Russian military. Intelligence suggests that the rebellion was halted because Russian agent's threatened the chief's family.
Last week, the Wagner mercenary group captured a Russian commander after the head of the Wagner mercenary group accused the Russian military of planting mines in the group's path.
Just a few weeks ago, the Wagner boss said his army isn't strong enough to attempt a coup. The boss of the Wagner group has criticized the Russian defense minister, whose children are allegedly living in luxury while Russian soldiers die. According to the chief of the Wagner group, 20,000 of his troops died in the battle for Bakhmut.
After claiming victory in Bakhmut, the Wagner chief has vowed to leave Bakhmut. Zelenksy is denying Russia's alleged victory in Bakhmut.
Russian forces are in retreat near Bakhmut, according to both Ukraine and Wagner.
Ukraine has defeated Russian forces near Bakhmut, liberating some of the captured territory and capturing some troops.
Ukraine said there has been no sign of the Wagner group leaving Bakhmut. The head of the Wagner mercenary group says he will pull his troops out of Bakhmut, blaming defense officials for lack of ammunition. Kyiv suffered its worst Russian attacks in a year.
Several dozen Ukrainian civilians were wounded in pre-dawn Russian missile strikes.
Russian missiles killed 25 people in a block of apartments. Two people are dead and another ten wounded in a Russian attack on a Ukrainian museum. Russia claims to be "saving" children, not kidnapping them, despite overwhelming evidence. Ukraine hopes to create an international coalition to return its deported children.
More than 30 children have been returned to Ukraine following deportation to Russia. The Russian military may have committed more than 9,000 war crimes in the Bucha district. Putin has been charged with war crimes in an International Court and a warrant for his arrest has been issued. The International Criminal Court has opened war crimes cases against Russia. Ukraine has accused Russian soldiers of destroying 400 apartment blocks to hide evidence of war crimes.
As the war in Ukraine continues, evidence of Russian-perpetrated war crimes is mounting. Zelensky has said that Ukraine has already uncovered evidence of 400 war crimes in Kherson. Ukraine recently regained the only regional capital taken by Moscow, Kherson. Volodymyr Zelensky will take part in the G20 summit. Zelensky has also been awarded the Liberty Medal by the National Constitution Center in Philadelphia.
The United States is sending another $400 million to Ukraine.
Canada is selling bonds to help fund Ukraine. Many nations are contributing to the war however they can; for example, an Idaho man who volunteered to fight in Ukraine has died.
UK intelligence suggests that Russians are getting tired of Putin's war, with more saying that Putin made mistakes with the war.
Russians are fleeing to Kazakhstan to avoid Putin's draft. There are now more Russians fleeing the draft than there were in the original invasion force, UK intel suggests.
A Russian man has shot a draft officer responsible for signing up conscripts for the Ukraine war; in a separate incident, a man set himself on fire in protest. Vladimir Putin is allegedly in hiding as anti-draft protests erupt around Russia. More than 1,300 civilians have been arrested for protesting Putin's conscription of civilians.
To make up for frontline setbacks, Russia has increased its attacks on Ukrainian infrastructure. Ukrainian president Zelensky has visited reconquered territory, a sign of the country's strength.
Ukraine regained still more territory from the Russians in the past week. The week before, Ukrainian forces reached the Russian border in the Kharkiv region. Ukraine's lightning counteroffensive drove Russian soldiers from the Kharkiv region, and now Ukraine has tripled its reconquered territory. Ukraine began its long-awaited offensive in the country's south last week. President Zelesnsky has also promised to retake Crimea by whatever means necessary.
Western nations are aiding Ukraine's ambitions. The United States is set to send Ukraine another $3 billion in aid. Turkey has sent 50 mine-resistant vehicles to Ukraine, and it will send more in the future. Ukraine has received more rocket launchers from the United States and Germany. President Zelensky has said that the Ukrainian army is losing around 30 soldiers per day, compared to the 100-200 at the beginning of the war. 3The UK government announced that it will send both artillery and drones to Ukraine. Zelensky's office has also confirmed that the United States will train F-15 and F-16 pilots.
The Ukrainian defense minister has announced the country hopes to build a "million-strong army" to beat back the Russians.
The Russian military is beginning to amass reserves on the Ukraine border. Two-hundred Russian soldiers have been killed and another 300 wounded following a Ukrainian attack on a Russian base.
A Canadian fighting for the Ukrainian army has issued a plea for more weapons and money (to buy weapons).
Two weeks ago, Australia sent ammunition to Ukraine, in response to Zelensky's pleas. Ukraine was reporting a shortage of ammunition, threatening to halt their defense against Russia. International governments have so far been generous with weapons. Poland has announced that it will sell $650m worth of heavy weapons, including self-propelled Howitzers, to Ukraine.
Sweden and the UK have also joined a growing list of countries sending another round of advanced weapons to Ukraine. Spain is sending state of the art, German-designed tanks to Ukraine to help fight the Russian invaders. Germany has announced that it will send modern anti-aircraft missiles and radar systems to Ukraine. The United States will also be sending Ukraine medium-range rockets, according to President Biden.
The Russians, by contrast, are beginning to struggle in terms of weapons. The Ukrainian military says it has destroyed an ammunition depot as the fighting in Donbas intensifies. Such destruction has led Ukrainian military analysts to conclude that the Russian military has depleted its modern military equipment. Russia has more woes than just equipment. Over a hundred Russian national guard soldiers have been fired for refusing to fight in Ukraine.
Russia's parliament has eliminated the age limit for military service as they scramble for more soldiers. The Russian military is also offering bonuses four times bigger than a soldier's monthly salary.  British military intelligence has estimated that Russia lost a third of its invasion force.
Alexander Lukashenka, the dictatorial leader of Belarus, has admitted that the Ukraine war is not going according to plan.  The German industrial giant Siemens is planning to leave Russia after almost 170 years, as a result of the Ukraine war.
The Russian finance ministry has admitted that western sanctions are threatening the country with economic collapse.
Vladimir Putin's $989 million megayacht has been seized in Italy. In terms of such seizures, Chuck Schumer said that the United States will sell seized Russian oligarch's assets to benefit the Ukrainian war effort.
More news.
.
.