R. Kelly found guilty of more federal crimes
Posted by Annie May / September 16, 2022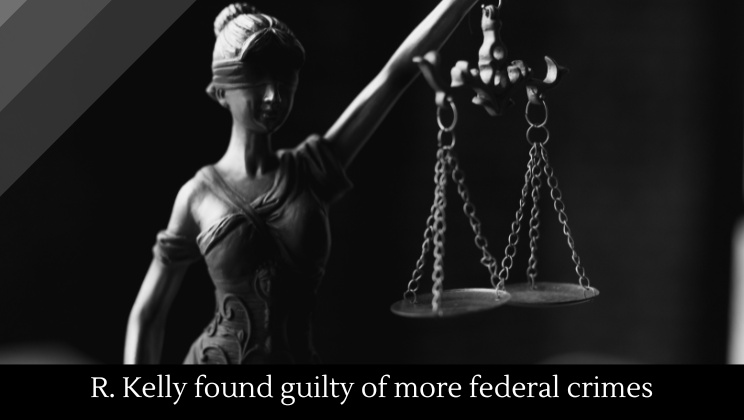 R. Kelly has been found guilty
of still more federal offenses involving the sexual exploitation of minors. He faces decades in prison. R. Kelly's indictment was updated last year to include charges of having sex with a girl as young as 14 or 15 in the 1990s. These charges also seek forfeiture of assets from R. Kelly's production company and another firm owned by his manager. R. Kelly married Aaliyah when she was only fifteen––he 
legally 
married here. No one knew how he did that, until now. 
Federal prosecutors have accused him of bribing an Illinois government employee to get Aaliyah a fake ID
, which led to the marriage.
R. Kelly has already been charged with 11 new felony 
counts of sexual abuse. Some of those carry a sentence of up to 30 years in prison. Court records show that those those counts include: four counts of aggravated criminal sex assault; three counts of aggravated criminal sexual abuse of a victim between 13 and 16; two counts of criminal sex assault by force; and two counts of aggravated criminal sex abuse. Robert Kelly, the famed musician and producer, had already been charged with 10 counts of aggravated criminal sexual abuse in Cook County, Illinois. These events are the direct result of Lifetime's release of a documentary called "Surviving R. Kelly," which led 
Chicago authorities
 to open an investigation. In that documentary, several women reported that R. Kelly had sex with them while they were underage, and what's more, they claimed that he kept them against their will. Months later, Michael Avenatti, the attorney who represented 
Stormy Daniels
 in her suit against Donald Trump, claimed that there was video evidence of R. Kelly engaging in sexual activities with underage girls. He claimed to have turned that tape into authorities, though authorities did not initially confirm this. These charges against R. Kelly are the result of this video, in which Kelly is seen having sex with a girl who was fourteen years old at the time. Three of the four women involved in these charges were between 13 and 16 when Kelly forced them to engage in sexual activities.
R. Kelly's daughter
 has spoken out, saying, amongst other things: "I am well aware of who and what he is. I grew up in that house." More 
news
.