Reactions to Trump's address
Posted by Josh Taylor / January 9, 2019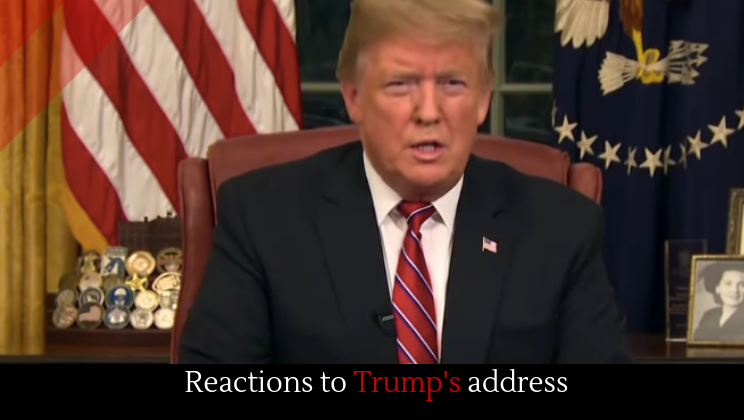 On Tuesday night, Trump delivered the first Oval Office address of his presidency. This post will briefly summarize the reactions.
NPR culled seven takeaways from the speech:
The shutdown is nowhere near over.
Trump is continuing to fear-monger.
The president was really trying to reach wavering Republicans.
He believes federal workers want this.
The optics were good.
Democrats want to end the shutdown, Trump wants the wall.
A national emergency might be the only way out.
The New York Times fact-checked the speech. Most of his statements require context, according to The Times, or were a little misleading. There was only one outright falsehood:
"The wall will also be paid for, indirectly by the great new trade deal we have made with Mexico."

False.

First, the revised North American Free Trade Agreement, known as the United States-Mexico-Canada Agreement, has yet to pass in Congress. Any economic benefits from the agreement, if it passes, will most likely come in the form of lower tariffs for American companies or higher wages for American workers.

This is different from Mr. Trump's campaign promise that Mexico would finance the wall.
The Washington Post was more critical, calling his speech misleading "from beginning to end."
A Washington Post opinion piece argues that Trump's speech was more successful than the Democrat's response. Time, among others, noted that social media found the Democrat response humorous, since Pelosi and Schumer look like angry parents.
More news.