Republicans––including Trump––are simply not reading the Mueller report
Posted by Ivan Trendafilov / June 1, 2019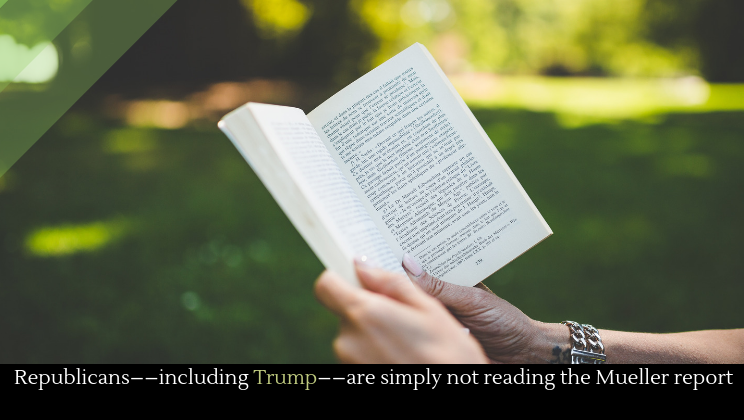 Many Republicans seem to think that Mueller report completely exonerated Trump, but it absolutely did not. Most major news outlets have made that very clear, with one notable exception: Fox News. Fox has mentioned has presented the report as though it clears Trump of any and all wrongdoing.
One example of this Fox-induced blindness is circulating the media now, the case of Cathy Garnaat. She went to a town hall featuring Representative Justin Amash, who recently broke GOP ranks to criticize Trump. She supported Trump and Amash, and Amash's betrayed annoyed her––but, like a good citizen, she wanted to hear him out. That was the first time she heard that the Mueller report contained anything negative about Trump. In her words:
"I was surprised to hear there was anything negative in the Mueller report at all about President Trump. I hadn't heard that before. I've mainly listened to conservative news and I hadn't heard anything negative about that report and President Trump has been exonerated. What I had heard about Trump in watching conservative news is that there wasn't any foul play by him, nothing in the bad range."
Some pundits are even speculating that Trump himself didn't read the report––which should really come as no surprise by now. The New York Times' White House correspondent Maggie Haberman suggested that Trump either didn't read or didn't properly understand the report, and when he heard Mueller make he statement he flew off the handle because he finally realized what was in it; namely, that it did not exonerate him.
More news.