Russian prisons empty as inmates sent to front
Posted by Jimmy Cooper / October 26, 2023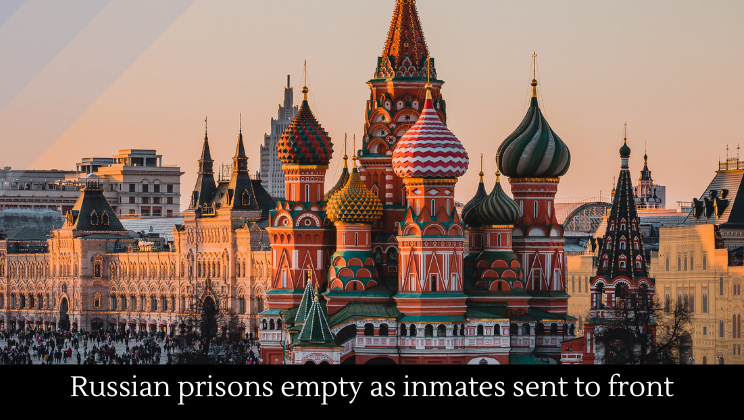 Russia's prison population is plummeting as inmates are sent to the front lines in Ukraine.
Russia has begun a massive assault across the eastern front.
There is fierce fighting in eastern Ukraine as Russia steps up its assaults. Russia launched a large attack in eastern Ukraine.
Putin has claimed that Russia successfully tested a nuclear-powered cruise missile, which would have a potentially unlimited range. There is no proof that his claims are true.
A Russian airstrike has killed 51 people at a Ukraine funeral. Russia is trying to get back on the UN human rights council.
In the latest (and most disturbing) Russian propaganda ad, Russian soldiers say they hope to live in conquered Ukraine cities.
Taiwan is complaining China is harassing them by flying 103 planes towards the island's airspace.
The United States will give Taiwan $345 million in military aid.
Taiwan is using Ukraine as a model as they prepare for possible Chinese aggression. China has simulated an attack on key Taiwanese targets
China's foreign minister has warned the United States not to cross its "red line" with "bullying" tactics. China claims it drove off a US naval cruiser near the Spratly Islands.
China has warned of a potential arms race after learning that the US was sending nuclear-capable bombers to Australia.
President Biden has said that the United States would defend Taiwan if China invaded. China has been simulating attacking United States ships, according to Taiwan.
Taiwan shot down a Chinese drone; yesterday, Taiwan fired on a Chinese drone that invaded its airspace.More than 50 Chinese warplanes and 6 warships have been spotted near Taiwan. Chinese aircraft have entered Taiwanese airspace yet again. Just two weeks ago, Taiwan scrambled jets as 22 Chinese aircraft invade Taiwanese airspace.
Australia's defense minister has said that China's military buildup is the "most ambitious" since WWII and could endanger geopolitical stability. China has launched an AI-piloted, unmanned naval ship capable of carrying and launching dozens of drones.
Taiwan has deployed advanced, fourth generation fighter jets in a show of force to stand up to China. China has fifth-generation fighter jets, but so does the United States, who has backing Taiwan.
The president of Taiwan has said that the threat from China is increasing every day, and she has confirmed that there are US military trainers assisting the Taiwanese.
Last week, Chinese President Xi Jinping vowed to achieve a "peaceful reunification" with Taiwan, despite the threatening presence of Chinese fighters in Taiwanese airspace over the past months. In response, the Taiwanese president has vowed to defend Taiwan's sovereignty.
Biden has sided with China as tensions heat up between China and Taiwan, reiterating that the U.S. will abide by the "one China" policy––meaning the US will follow the Chinese assertion that Taiwan is its territory.
Taiwan has recorded a record number of Chinese jets in its airspace. This past summer, Chinese jets entered Taiwanese airspace multiple times. In June, China  sent a massive force of 28 aircraft into Taiwanese airspace, including nuclear-capable bombers, the largest and most threatening show of force yet.
The Chinese government, angered by recent developments between the U.S. and Taiwan, has warned the U.S. State Department to "stop all forms" of official outreach to Taiwan. This might actually signal a warming of tensions, consider a few months ago China was threatening to fly fighter jets over Taiwan if U.S.-Taiwan relations continued to warm. China also threatened "all-out war" if Taiwan fires on the jets. That same time, Taiwan reported the largest incursion by the Chinese air force yet.
The United States said it would defend Taiwan in the face of Chinese incursions into Taiwanese airspace a few months ago. China sent more fighter jets into Taiwanese air space as a result, escalating their show of force. Taiwan threatened to shoot down the Chinese drones in its airspace, if they get too close to the Taiwanese-controlled Pratas Islands.
Chinese drones were spotted gathering intelligence around Taiwan, according to the Taiwanese coast guard. Eleven Chinese warplanes flew into Taiwanese airspace on Monday, part of China's rising imperial aspirations. Earlier this month, China, as part of its usual change-of-presidency bellicosity, warned the United States against interfering with China's designs on Taiwan. Earlier this year, China called Taiwan an "insurmountable red line."
More news.