Shooting at UNC Charlotte leaves 2 dead; another shooting averted in Tennessee
Posted by Catherine Reed / May 1, 2019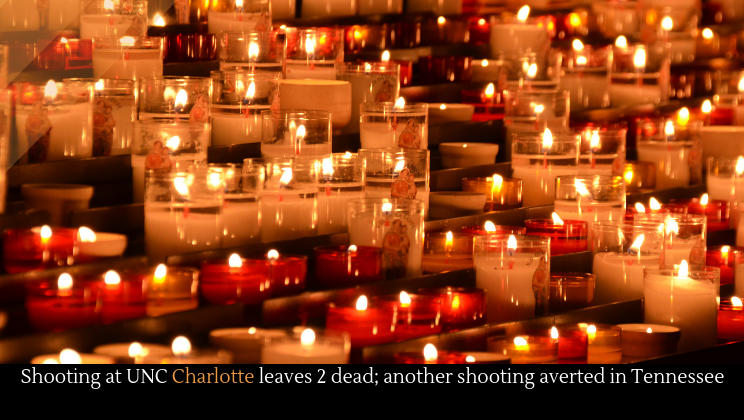 A shooting at the University of North Carolina at Charlotte has left two dead and four injured. The shooter, a 22 or 23-year-old (sources differ on the age) who we will not name, is in custody. The shooter used a pistol and was quickly disarmed and detained. He said nothing as he was arrested, and his motives are as yet unknown.
The shooter allegedly walked into a classroom and opened fire. An alert lit up projectors around the campus: "Run, Hide, Fight. Secure yourself immediately." The shooting occurred on the last day of classes for the school year. All academic obligations––classes, finals, etc––are canceled through Sunday.
Meanwhile, in equally shocking news, two sixth graders were arrested in Crossville, Tennessee. The two boys allegedly were planning to bring weapons to school to shoot both students and teachers. The authorities were tipped off when a school resource officer heard rumors that there was a "hit list" of students targeted for a future school shooting.
According to the sheriff's office: "The investigation did not turn up a 'hit list,' but it did find a hand-drawn map of the school and a plot between the two 6th grade students to bring weapons, hide them in the locker room and on the last day of school enter through the back door, shoot faculty and students, then commit suicide before law enforcement intervention."
The students in question have been charged with conspiracy to commit murder.
More news.