The shutdown stalemate continues, but are peoples' minds changing?
Posted by Josh Taylor / January 8, 2019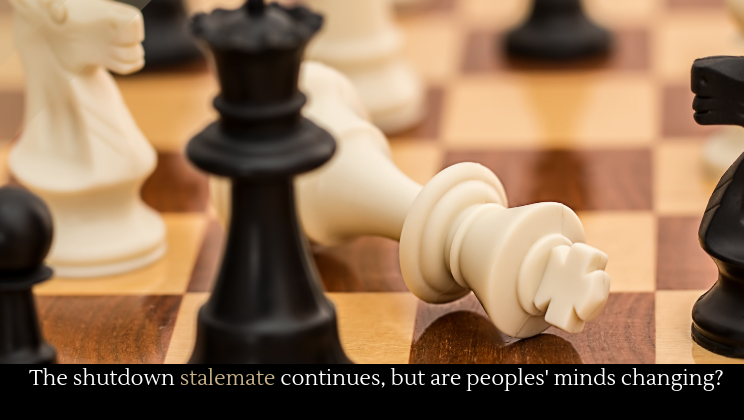 Over two weeks into the government shutdown there seems little hope of a consensus. The New York Times underscores the gap between the two groups with this anecdote:
Vice President Mike Pence insisted on beginning the first meeting with a prayer, so the chief of staff to the Senate majority leader, Mitch McConnell, asked God to "to bring us together" when negotiators met Saturday in Mr. Pence's ceremonial office in the Eisenhower Executive Office Building.

The next day, Speaker Nancy Pelosi's staff members, who were representing the Democratic side, began with their own prayer, which noted that Jesus and Mary were both refugees.

The two disparate prayers underscored the stalemate that lawmakers find themselves in as the shutdown drags into its third week: The two sides could not even agree on a pro forma invocation.
Some lawmakers, the Washington Post notes, are declining or donating their pay in solidarity with those who affected by the shutdown, but that does nothing to bring the two sides closer together.
Trump, meanwhile, is ramping up his efforts to get the public on his side. He plans to make a prime time address at the border to further sway people. He even, allegedly, lied about former presidents' support for the wall. He has also threatened to eschew negotiations altogether and use emergency powers to build the wall, which NPR notes would be wide open to legal challenges.
Despite the fallout from the shutdown––including a little sh*tshow in the national parks––and despite the public initially blaming Trump for it, the negative opinion towards Trump might be being shifted to Congress.
More news.