The shutdown is turning into a PR nightmare for Trump
Posted by Josh Taylor / January 20, 2019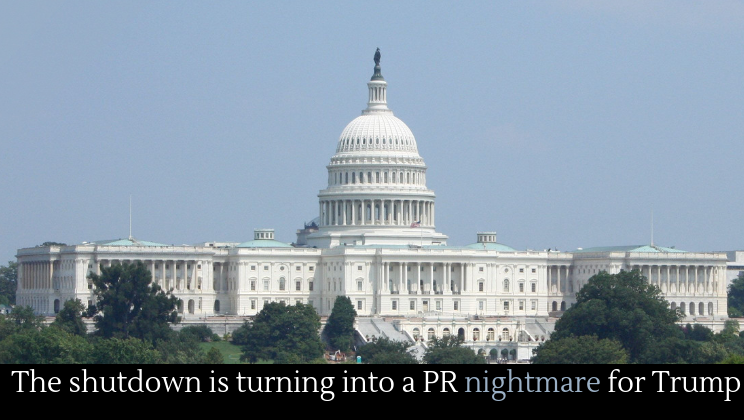 As time wears on, Trump is losing support among his core supporters:
The erosion in support has contributed to a sharp increase in the Real Clear Politics polling average of Trump's disapproval ratings. The RCP average Thursday showed overall disapproval for Trump at 55.7 percent, nearly 15 points higher than his average approval rating. Trump's disapproval rating hit an all-time high of 58.1 percent in December 2017, according to RCP.
Beyond that, about half of Americans don't want to end the shutdown by giving Trump money for the wall:
About half of Americans (51%) said it would be unacceptable if the only way to end the shutdown was to pass a bill that includes Trump's requested funding for the border wall, according to a 

Pew Research Center poll 

released on Wednesday. On the other side, 29% said it would be unacceptable for the only end to the shutdown to come via a bill that does not include the president's requested funding for the wall.
Only 19% of respondents thought the wall was the best use of that funding.

The best-polling use of funds was paying healthcare expenses for a half-million people, backed by 36% of respondents.

A further 30% thought infrastructure would most benefit from the funding, while 15% would fund pre-K programs.

Only respondents who identified as conservative thought the wall was an important priority.
George W. Bush made Trump's PR nightmare worse by delivering pizza to government employees forced to work during the shutdown.
More news.