Stacey Abrams's State of the Union response was fantastic
Posted by Robert Leonard / February 6, 2019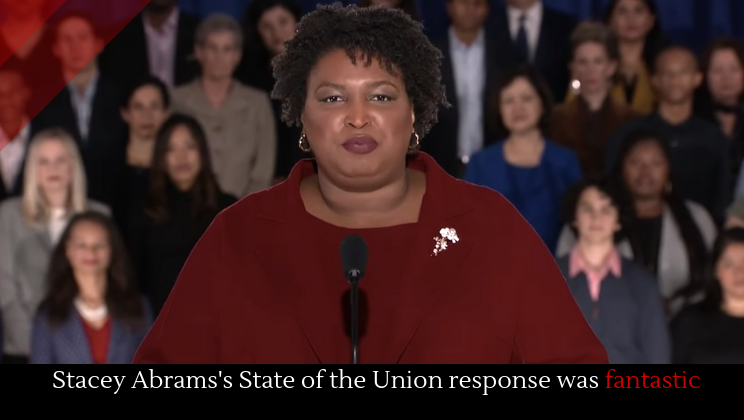 Delivering the response to the State of the Union is an excellent way for rising political stars to gain even more national attention. Stacey Abrams hardly needed more national attention, after her narrow defeat in the Georgia gubernatorial election––an election married by allegations of voter fraud or manipulation.
But the response can also be a curse. Marco Rubio's famous water bottle moment haunted him for months. Last year, Joe Kennedy III put on so much lip balm before his response that he looked like he was drooling.
No one will be making fun of Stacey Abrams's for her speech. The only memes that will gain traction will be positive ones. That's because she did a fantastic job.
She began with a story from her childhood. She described her parents teaching them the values of charity and hard work. From there, she pivoted brilliantly to the government shutdown, when she helped hand out food to government workers relying on handouts to survive. She blasted Trump for the shutdown and for using government employees as pawns in a political game. It was by far her strongest moment.
Coming in a close second for her most powerful topics was voting reform: This is the next battle for our democracy, one where all eligible citizens can have their say about the vision we want for our country. We must reject the cynicism that says allowing every eligible vote to be cast and counted is a 'power grab.'"
For the remainder of her time, Abrams hit the major Democratic talking points: LGBTQ rights, abortion availability, tax reform, health care reform, and racial justice. Her points were well delivered here, full of passion and compassion. She carried herself with grace and poise. She was, in short, surprisingly presidential.
Abrams ended her response with a better call to unity than Trump managed. She acknowledged that she disagreed with the president, but she made it clear that she does not want him to fail. She wants him, and our nation, to succeed. She also reminded us all that compromise is the only way we as a nation can win.
In terms of accuracy, Abrams stuck closely to facts in her short, ten-minute response. NPR adds details and sources to some of her claims. NBC's fact checking similarly supports her claims.
Three State of the Union responders have gone on to become president. Stacey Abrams's performance may make her the fourth––after all, a 2028 presidential run is already on her spreadsheet life plan.
In choosing Abrams, The Huffington Post opines, the Democratic Party leadership have signaled the direction they want the party to head in the upcoming years. Moreover, her staging––backed by a diverse array of women––signals that the party is leaning heavily towards two key issues: women and minorities. This is perhaps unsurprising, given the midterm election results which swept it more women (and minority women) than ever into offices around the country. In selecting Abrams, the Democrats may be telling voters that the message has been received.
Watch Stacey Abrams's response here:
More politics.