Stanford expels student linked to Admissions scam
Posted by Annie May / April 9, 2019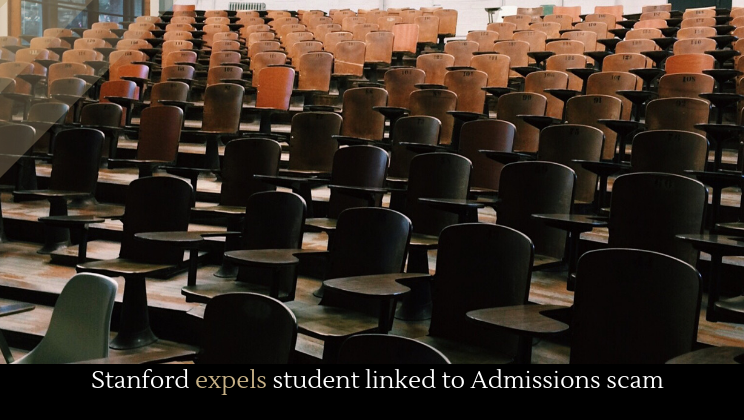 Stanford University has rescinded the admission offered to a student who was linked to the massive college admissions scam uncovered in March. The student's application materials included falsified sailing credentials, and after she was admitted Stanford sailing received a $500,000 donation through head sailing coach John Vandemoer. Vandemoer has been fired after admitting to taking bribes to help applicants.
 Yale University has similarly revoked the admission of a student linked the college cheating scandal. Yale has not announced the student's exact relationship to the scandal. Rudy Meredith, Yale's former women's soccer coach, has been charged with accepting a whopping $400,000 bribe to accept a student who didn't play soccer.
USC has likewise blocked students linked to the scandal from registering for classes or collecting their transcripts.
William Singer, owner of college admissions companies Key Worldwide Foundation and Edge College & Career Network, the alleged ringleader of the scam, has pled guilty to accepting bribes totaling $25 million and has claimed to have helped over 750 families get their children into college through irregular means.

The scam worked like this: parents would pay Singer, and Singer would in turn render their child's application much more likely to be accepted. He had people take admissions tests for students, ensuring perfect scores. He would get the students labeled disabled in some way. He would fake athletic credentials and bribe coaches (as was the case with Yale soccer coach who accepted a $400,000 bribe to let a non-soccer player in as an "athlete"). Bribes were often disguised as charitable donations, Aunt Becky from Full House (Lori Loughlin), for example, "agreed to pay bribes totaling $500,000 in exchange for having their two daughters designated as recruits to the USC crew team — despite the fact that they did not participate in crew — thereby facilitating their admission to USC."