Stephen King quits Facebook, protesting spread of false information
Posted by Robert Leonard / February 4, 2020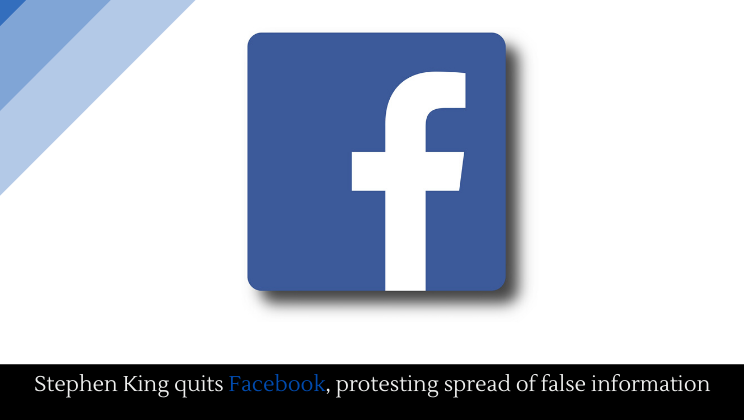 Despite other social media outlets banning political ads––even false political ads––Facebook refuses to risk the loss of income. Stephen King has become the latest celebrity to announce he is leaving Facebook over his concerns about privacy and the spread of false information.
Mark Hamill, of Star Wars fame, has also deleted his Facebook account.
"So disappointed that #MarkZuckerberg values profit more than truthfulness that I've decided to delete my @Facebook account. I know this is a big 'Who Cares?' for the world at large, but I'll sleep better at night," Hamill tweeted.
Facebook did not comment on Hamill's move, but issued a statement: "In the absence of regulation, Facebook and other companies are left to design their own policies. We have based ours on the principle that people should be able to hear from those who wish to lead them, warts and all, and that what they say should be scrutinized and debated in public."
And if that isn't enough, Facebook included the infamous news site Breitbart on its new "high quality" news tab. That news outlet has been widely criticized for posting extremist, "alt-right" content and conspiracy theories.
It should come as no surprise that Facebook did this, given that Zuckerberg has been meeting in private with conservative journalists and even politicians. Now, it doesn't matter what his exact political leanings are personally, but it absolutely matters what they are if they're going to influence his social media platform, which is arguably (and sadly) the most influential force in the upcoming elections. That he's meeting with these folks in secret and Facebook is apparently anti-Warren are both very dangerous facts.
Zuckerberg was recorded calling Elizabeth Warren's campaign an "existential" threat to Facebook. Zuckerberg also met with Donald Trump, after which Facebook announced it would no longer fact check or otherwise censor political content. Coincidence? Warren doesn't think so. In a series of tweets, she called out Facebook for its political bias.
Warren has a right to be worried by Facebook's bias. She's on the rise in the polls, but misinformation on Facebook can be very dangerous. According to a weekly Economist/YouGov poll, Elizabeth Warren has surpassed Joe Biden and now leads the primary field by 4%. She has been enjoying a surge in the polls in recent weeks, and now she is the contender to beat.
Warren also leads Joseph Biden in an Iowa poll. According to the Des Moines Register, Warren has a 2% lead over Biden, with 22% of likely caucusgoers listing her as first choice for president. Twenty-percent favor Biden, with only 11% favoring Bernie Sanders.
Warren has been gaining steam for awhile now. According to several polls in early September, the top five Democrats are all beating Trump in a projected 2020 election. Bernie Sanders, for example, was 12 points up on Trump in that poll, and Warren was 11 points over Trump. This represents a big gain for Warren––an additional four points since July. Compared to other Democratic candidates for presidential nomination, Warren is the woman to beat since she is seen more favorably than any other Democratic candidate.
But she has also been a vocal advocate for raising taxes on corporations and the super-rich. No wonder Zuckerberg hates her.
Facebook also doesn't care about privacy. A stunning 267 million Facebook users' IDs, phone numbers, and names were exposed to a database that might put them at risk spam and phishing expeditions.
Earlier this year, Facebook has announced 419 million users' phone numbers were exposed. The phone numbers were stored on a database that was not password protected.
The FTC has fined Facebook five billion dollars over the Cambridge Analytica scandal. To put it in perspective, that amount represents 9% of Facebook's 2018 revenue. The fine is the largest ever levied against a tech company––the second largest was against Google in 2012, which had to pay a mere $22.5 billion. Despite the size of the fine, some believe that Facebook needs more regulation, given the gravity of the Cambridge Analytica scandal, in which tens of millions of users' data was improperly accessed.
Facebook has never been great at privacy, and the fallout has been building for some time. Earlier this year, it was revealed that Facebook stored millions of user passwords in plaintext––meaning that they were unsecured––for years. This means that employees had access to user account info for years. Facebook claims there has been no abuse, and that people need not reset their passwords. Wired thinks otherwise because of a series of security breaches by Facebook.
Further, when Facebook learned that millions of instagram users' data had been compromised, they did their best to avoid telling the world. While every other reporter and reader in the country was focused on the Mueller report, Facebook made a little adjustment to their blog post: "(Update on April 18, 2019 at 7AM PT: Since this post was published, we discovered additional logs of Instagram passwords being stored in a readable format. We now estimate that this issue impacted millions of Instagram users." Facebook said they would notify users whose passwords were exposed.
More news.