Texas Republicans tried, and failed, to oust a Muslim for his religion
Posted by Josh Taylor / January 11, 2019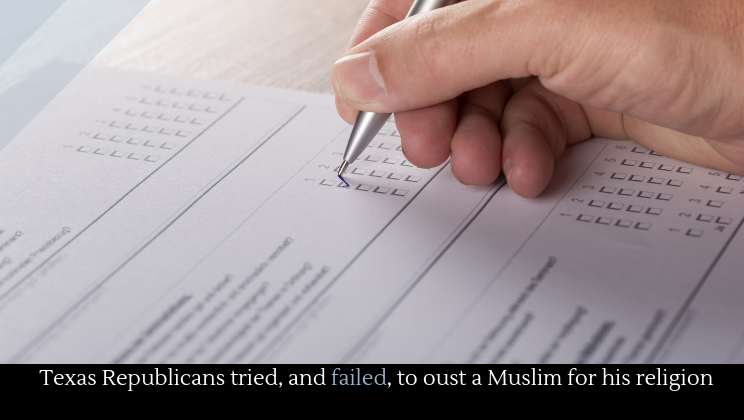 Some Tarrant County Republicans recently attempted to remove Dr. Shahid Shafi from his position as the party's vice chair. Precinct Chairman Dorrie O'Brien organized the attempt, saying
We don't think he's suitable as a practicing Muslim to be vice chair because he'd be the representative for ALL Republicans in Tarrant County, and not ALL Republicans in Tarrant County think Islam is safe or acceptable in the U.S., in Tarrant County, and in the TCGOP, and there are big questions surrounding exactly where Dr. Shafi's loyalties lie, vis a vis Democrat and Republican policies.
The story almost immediately gained national attention––and it was very bad PR for the GOP:
"This (Shafi) story has gained national attention and has put the party in a bad light, all thanks to the actions of a few," said William Busby, a former precinct chairman and leader for the Tarrant County Republican Party. "Corporate donors, the big donors, don't want to be associated with a party that's going in the direction of excluding people based upon their religious beliefs."
Both Ted Cruz and George P. Bush (Jeb Bush's son) decried the attempt to remove Dr. Shafi, pointing out that it's both un-American and unconstitutional.
In an open letter, Dr. Shafi wrote something important:
A nation divided by hate and fear makes us weaker, and our enemies stronger. It is through inclusion, and not exclusion, that we will be able to build strong communities, where neighbors trust and protect each other, and our enemies cannot find refuge.
More news.