The longest serving Republican in Iowa legislature is switching parties
Posted by Josh Taylor / May 13, 2019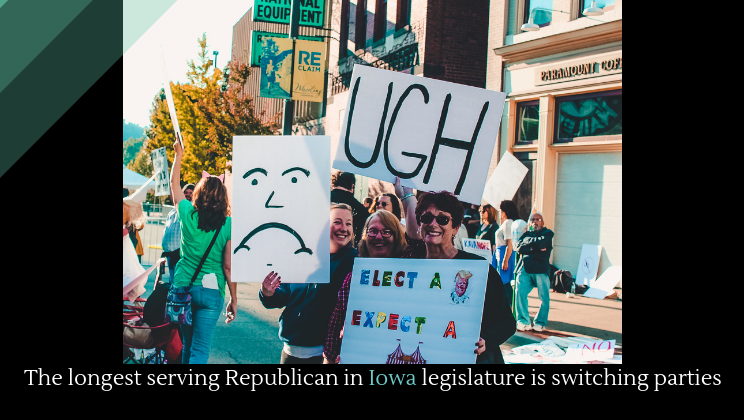 Andy McKean was elected to the Iowa legislature in 1978 when he was in his late 20s. He has served in both the state House and Senate. For most of his career, he was comfortable with his Republican party affiliation. But now, he's switching teams.
"I believe that it is just a matter of time before our country pays a heavy price for President Donald Trump's reckless spending and shortsighted financial policies; his erratic, destabilizing foreign policy; and his disdain and disregard for environmental concerns," McKean wrote for The Atlantic. He goes on to say that Trump "sets a poor example for the nation and our children."
McKean isn't the only Republican to question the party after Trump's election. One Republican strategist, Rick Tyler, expressed shock that other Republicans received Trump so well at the Conservative Political Action Conference. "The people there talk about being pro-tariffs, anti-justice, anti-law enforcement, anti-immigrant, anti-Muslim, pro-Russia, pro-autocrat. It's unrecognizable what Donald Trump has done to the party and what he's done to the conservative movement."
The Republican Party as Tyler knew it, in short, is dead. "Rest in peace," he said, "The problem is that the Republican Party has no grounding governing philosophy anymore because they've signed on to all these things as I just mentioned that were antithetical to the conservative movement." The party is now, Tyler believes, the Trump Party.
Bill Weld, the former governor of Massachusetts, has announced that he will attempt to challenge sitting president Donald Trump for the 2020 Republican nomination. Challenging a sitting president is an immensely challenging proposition, but Weld is ready for the fight: "In every country, there comes a time when patriotic men and women must stand up and speak out," he said. "In our country, this is such a time."
The Associate Press reports that Weld will not be the only Republican to challenge Trump. An aide to former Ohio Gov. John Kasich said that Kasich may run as well. With multiple high-profile challengers on the ticket, Trump may be in real peril in 2020.
More politics.