Trump also asked Boris Johnson for help discrediting the Mueller investigation
Posted by Ivan Vaquero / October 3, 2019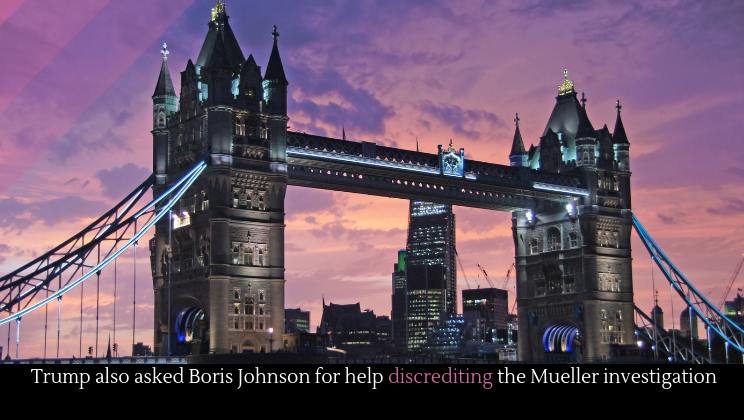 The Times of London has reported that Donald Trump called Boris Johnson for help discrediting the Mueller investigation by gathering evidence to undermine any connections between Trump and Russia.
Sources have also revealed that Donald Trump pushed the Australian prime minister to help Attorney General William P. Barr as he gathers information for a Justice Department inquiry into the Mueller investigation. Trump hopes that this investigation will discredit Mueller, his findings, and the entire investigation.
This news may do still more damage to Trump as he faces impeachment. Recent polls indicate that many Americans are in favor of impeachment investigations into Donald Trump. An ABC News-Ipsos survey reveals that 60% of Americans think that it's a serious problem that Trump asked the Ukrainian president to investigate Joe Biden. Only 36% of respondents say it's not serious. A YouGov poll, meanwhile, shows that 55% of Americans think the impeachment probe is necessary, while 45% think it is unnecessary.
Another poll shows support for impeachment proceedings against Donald Trump has risen 12 points since three months ago. Opposition to impeachment dropped 3 points.
In addition, about 300 top ex-officials, including diplomats, national security officials, and White House staffers, have signed their names to a letter accusing Trump of an "unconscionable abuse of power" by pushing the Ukrainian president to investigate Joe Biden.
"Having worked across administrations of both parties to uphold and advance those national interests, we consider the President's actions to be a profound national security concern," the statement reads. The letter applauds Congress, and especially Pelosi, for opening an investigation into the President's actions.
Together, all of this will certainly impact Trump's chances in 2020.
More politics.