Trump blames media for El Paso shooting, media else blames Trump
Posted by Thomas Bush / August 7, 2019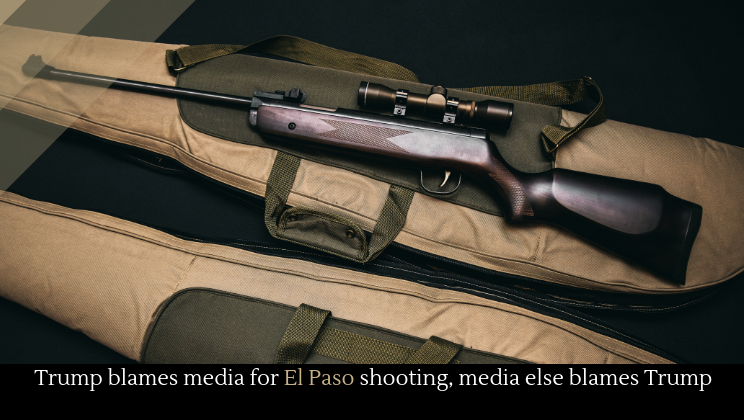 As the death toll from the El Paso shooting climbs to 22––and may continue to climb––the national argument over who's at fault is heating up.
President Trump, as he is wont to do, is placing the blame on the media. He tweeted, "Fake News has contributed greatly to the anger and rage that has built up over many years. News coverage has got to start being fair, balanced and unbiased, or these terrible problems will only get worse!"
Trump may not be wrong about linking the media to violence. One study suggests that the media's continual coverage of mass shootings only increases mass shootings.
That being said, Trump must shoulder his own share of the blame. Media Matters dug through the Facebook archive and discovered that Trump has run nearly 2,200 ads using the word "invasion" since May 2018. One such ad reads:
"We have an INVASION! So we are BUILDING THE WALL to STOP IT! Dems will sue us. But we want a SAFE COUNTRY!," one of Trump's advertised posts read. "It's CRITICAL that we STOP THE INVASION. Nancy Pelosi and Democrats have no negotiated in good faith to fund a wall at our Southern Border, proving that OBSTRUCTION is far more important to them than YOUR SAFETY…"
If it turns out that the El Paso shooter was doing this out of some white nationalist drive to kill immigrants and save the U.S. from an invasion of immigrants, then Trump must accept responsibility.
More news.