Trump donor gobbles up largest single chunk of PPP funding
Posted by Josh Taylor / April 23, 2020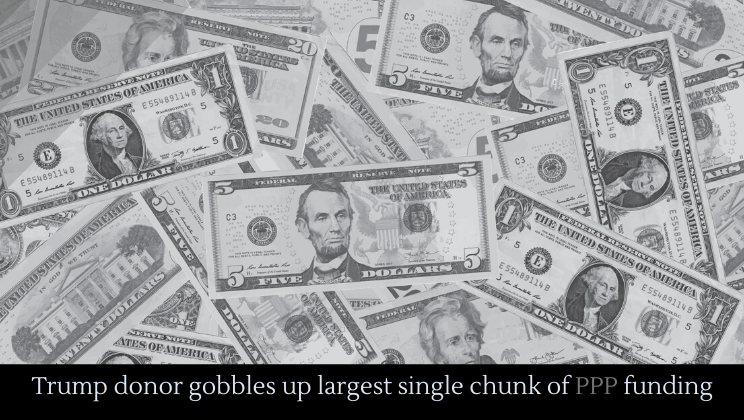 Ashford Hospitality Trust, a real estate investment trust, along with some of its subsidiaries, gobbled up around $30m of Paycheck Protect Program funding, making it the single largest slice of the PPP pie. Monty Bennett, the company's founder, used that money to pay himself and his father. Bennett is also a big donor to the GOP.
Of the total $349 billion allotted for the Paycheck Protection Program––a program designed to help small businesses––a whopping $243.4 million has been snatched up by large, publicly traded companies.
What's worse, evidence is growing that Trump's COVID response is political corruption.
President Trump sent the series of tweets urging citizens to violate Democratic governors' stay-at-home orders late last week. Jay Inslee has called the tweets "unhinged" and "illegal," since they're calling for domestic insurrection.  What we wonder is this: is Trump actually trying to encourage insurrection, or is he doing so to obscure something else––something like corruption?
According to a recent ProPublica investigation, the Trump administration pushed FEMA to approve contractors for a government job who never even bid, circumventing the normal process for unknown reasons.
According to a New York Times investigation, Donald Trump's family trust and some of his associates have a small stake in Sanofi, the company that makes it.
Other aspects of Trump's handling the COVID crisis are leading to cries of corruption. His briefings on the pandemic are, basically, a parade of CEOs who lavish praise on Trump. Some 57% of the U.S. population believes that the political system only works for those with money and influence…can't imagine why that is.