Trump draws criticism for stopping WHO funding
Posted by Ivan Vaquero / April 16, 2020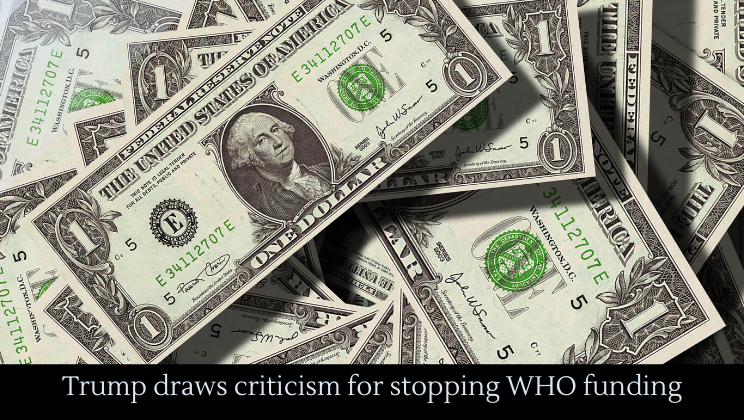 Donald Trump has halted funding to the World Health Organization (WHO), citing the organization's alleged mishandling of the coronavirus outbreak. After a day, the WHO responded: We alerted the world in a timely matter and kept everyone up to date.
Bill Gates has been outspoken about Trump's decision. He tweeted, "Halting funding for the World Health Organization during a world health crisis is as dangerous as it sounds."
Gates is working as hard as anyone to fight the virus. Healthy volunteers are ready to begin testing a COVID vaccine funded by Gates. It is the second such vaccine trial funded by Gates.
Bill Gates's foundation has been pouring billions of dollars into factories for producing a COVID vaccine. There are currently seven promising vaccines, but only one or two will make the final cut. That means he's funding seven factories, but at least five will not be used––and that means he's wasting billions. But it's a price he's willing to pay to save lives.
"Because our foundation has such deep expertise in infectious diseases, we've thought about the epidemic, we did fund some things to be more prepared, like a vaccine effort," he said. "Our early money can accelerate things."
Hopefully Gates's money will accelerate the world's recovery, because things are getting worse. The United States now leads the world in the number of COVID cases, including China by a narrow margin.
Italy, meanwhile, has banned public funerals in order to slow the spread of the virus.
Finally, because the Brazilian president has called the coronavirus a "little flu," the mob in that country has threatened to teach anyone who goes out after 8pm a "lesson."
Cheesecake Factory CEO and chairman David Overton has told landlords for all its locations that it won't be paying rent for awhile. It is not recommended that you try this at home. COVID has caused the restaurant to totally close 27 restaurants temporarily while shifting others to carry-out only.
In far less hilarious news, the mayor of Atlanta has warned that her city's ICU units are full. If cases surge there, we may see scenes like those in Europes, with hospital patients spilling into the hallways.
The entire country of India is on lockdown as the Prime Minister ordered its 1.3 billion citizens to stay home.
Waffle House, a home-away-from-home for countless southerners, is closing 365 locations until the virus passes. Its workers will remain employed.
Despite these measures, the virus is still spreading, and it might get worse––a cruise ship with more than 40 people with flu-like symptoms are heading towards Florida. It will dock next week.
Rand Paul tested positive for COVID-19. What's worse, he tested positive six days before he stopped going to work on the Hill, so you can expect more sick senators in the days and weeks to come.
Massachusetts citizens are under a stay-at-home order, the latest state since New Jersey's governor announced a stay-at-home order. Weddings, parties, and any other kind of gatherings are canceled.
California, Illinois, and New York are all on lockdown in an effort to slow the spread of COVID-19. The states have ordered that everyone stay at home unless they have a vital reason to be out, including grocery shopping, buying medicine, or exercise. It's not stopping Californians from hitting the beach, however.
More news.