While Trump hides, Biden visits protest sites
Posted by Annie May / June 2, 2020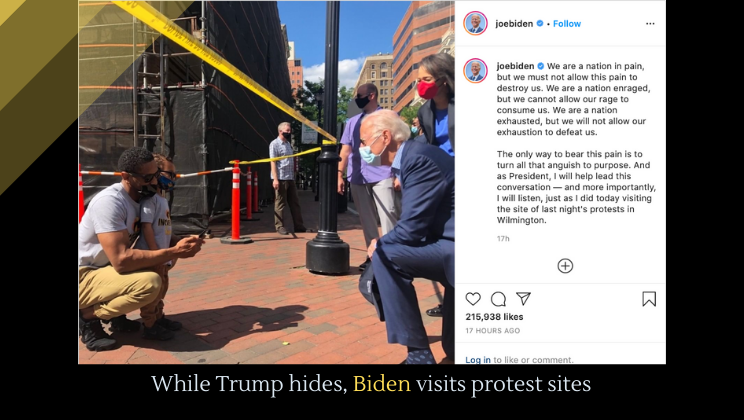 In the aftermath of George Floyd's death, President Trump tweeted out violent, divisive language. For example, Trump tweeted this:
….These THUGS are dishonoring the memory of George Floyd, and I won't let that happen. Just spoke to Governor Tim Walz and told him that the Military is with him all the way. Any difficulty and we will assume control but, when the looting starts, the shooting starts. Thank you!
Twitter considered the post so violent that they hid the post under this warning, signaling a major escalation in the battle with Trump:
This Tweet violates our policies regarding the glorification of violence based on the historical context of the last line, its connection to violence, and the risk it could inspire similar actions today.
When Trump's violent tweets came home to roost and protestors set fires near the White House, President Trump was rushed to safety in an underground bunkers. The lights to the White House even went off, which has only ever happened when a president has died.  Symbolically speaking, maybe the office of president has died, in a way.
China certainly thinks so––they're goading Trump over his inaction and failed leadership.
Presumptive Democratic presidential nominee Joe Biden is using this opportunity to highlight his own leadership abilities. He's using social media to simultaneously broadcast his own campaign messaging and attempt to heal some of the divisions leading to the protests. He's also visited protest sites to speak with––and listen to––participants.
More news.