Trump reaction to whistleblower causes cries of corruption
Posted by Thomas Bush / September 21, 2019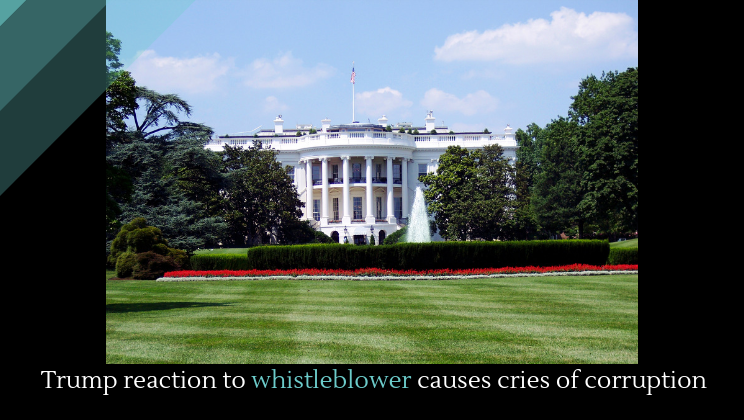 The White House, in conjunction with the Department of Justice, withheld a whistleblower case from Congress, sparking accusations of corruption. Trump dismissed it as "fake news:"
"Another Fake News story out there – It never ends! Virtually anytime I speak on the phone to a foreign leader, I understand that there may be many people listening from various U.S. agencies, not to mention those from the other country itself. No problem! Knowing all of this, is anybody dumb enough to believe that I would say something inappropriate with a foreign leader while on such a potentially 'heavily populated' call. I would only do what is right anyway, and only do good for the USA!"
Except…it's not fake news. The whistleblower case exists, it's real. And, as CNN points out, the revelations within the case may be "explosive."
Trump has struggled with accusations of corruption on a variety of fronts recently. In Spring of 2019, an Air National Guard crew took a routine trip from the United States to Kuwait, bringing supplies. But on this particular trip, something unusual happened: the crew stopped at a Trump resort outside Glasgow, Scotland––both ways. The House Oversight Committee is currently investigating why the Air National Guard C-17 stopped in Scotland as part of broader investigations into how government stays at Trump resorts.
The House Oversight Committee has sent letters to the White House, the Trump Organization, the vice president's office, and the US Secret Service questioning Mike Pence's stay at Trump's Ireland resort, as well as Trump's plan to host the G7 summit at his Florida resort. The committee wrote that it "does not believe that US taxpayer funds should be used to personally enrich President Trump, his family, and his companies."
Pence's stay in particular was troublesome because all of his meetings took place across the whole country, about three hours away. Many critics are accusing Pence of downright corruption.
The committee is investigating "[p]otential violations of the Foreign and Domestic Emoluments Clauses of the Constitution are of grave concern to the Committee as it considers whether to recommend articles of impeachment."
This will not reflect well on Trump, who has already been accused of using the office of the president to line his pockets. But that might be the least of his problems––Pence staying at a Trump resort to make Trump rich might raise the specter of tyranny once again. From nearly the beginning of his presidency, Donald Trump has been accused of autocracy. Now that 2020 is in spitting distance, his critics are growing worried that he is not going to give up his office should he lose the vote.
More news.