Trump refuses to sign G20 climate agreement, Attenborough warns of civilization collapse
Posted by Josh Taylor / December 3, 2018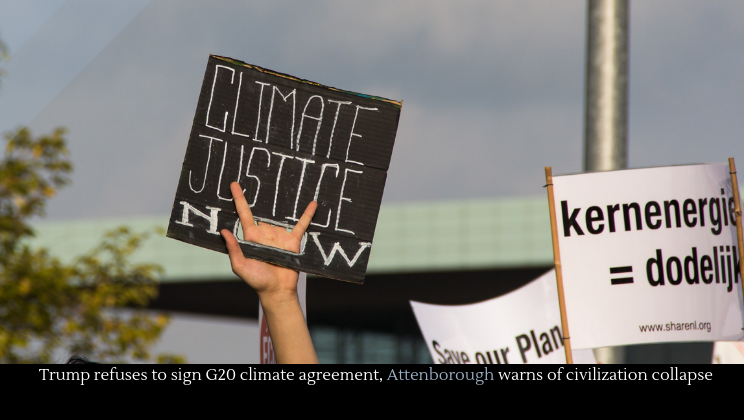 The twenty countries with the largest economies (the G20) recently met in Buenos Aires. At the G20 summit, every country but one signed a climate accord. According to Newsweek, the "climate accords sets targets for countries to reduce carbon emissions to fight global warming and keep global temperatures under 2 C." That country, unsurprisingly, was the United States.
Trump did sign a joint communiqué at the end of the summit––a victory for the G20 since Trump has been famous for stonewalling such international gatherings by refusing to sign joint communiqués. That document contains the following paragraph, explaining the United States' position:
The United States reiterates its decision to withdraw from the Paris Agreement, and affirms its strong commitment to economic growth and energy access and security, utilizing all energy sources and technologies, while protecting the environment.
David Attenborough, arguably Britain's––perhaps the world's––most beloved scientist, said at summit: "Right now we are facing a manmade disaster of global scale, our greatest threat in thousands of years: climate change. If we don't take action, the collapse of our civilisations and the extinction of much of the natural world is on the horizon."
The summit also featured Trump awkwardly walking off stage while telling an aide to "get me out of here" on a hot mic. The Independent implied that the President's mind was slipping because he often makes such blunders.
More news.