Trump takes selfie with human trafficker, is buddies with Robert Kraft
Posted by Josh Taylor / March 9, 2019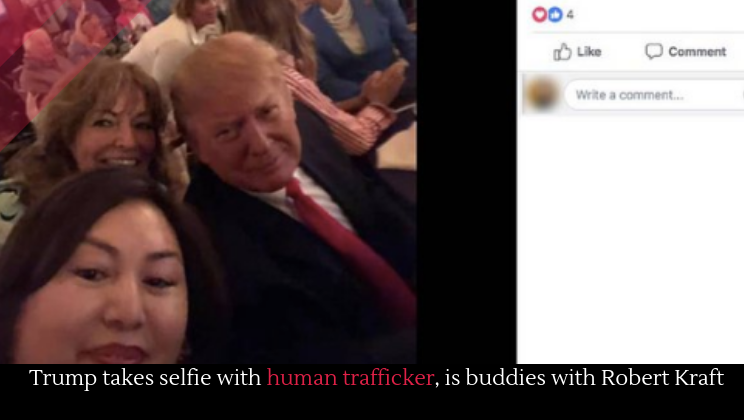 Trump watched the Super Bowl with the founder of the spa where Patriots owner Robert Kraft was busted in prostitution sting, the ⁦@MiamiHerald⁩ reports.

The party was at Trump's West Palm Beach country club. https://t.co/aPnqN50uEX

— Steve Contorno (@scontorno) March 8, 2019
Recent investigations have revealed that thousands of massage parlors, all around the country, are keeping women against their wills and forcing them to have sex with clients. The women are often from outside the United States. Searching for a way to get out of debt, they answer an ad for high paying work. Before they know it, they're being shipped to the United States, taught the trade, and sent to a massage parlor somewhere. Some go to New York, others go to Texas, and so on.
Thanks, in part, to the recent incident with Robert Kraft, more attention is being paid to this $3-billion industry. News recently broke that Donald Trump is friends with Robert Kraft. What's worse, as you can see in the selfie above, Trump took a picture with Li Yang, one of the human traffickers involved in this scheme. She herself carries a rhinestone encrusted MAGA clutch purse, and has also donated more than $16,000 to Trump and $42,000 to a political action committee for Trump.
Trump said he was "surprised" by the news about Kraft. Interestingly, though, anyone who comes into close contact with Trump is supposed to go through an extensive background check. Apparently the background checks aren't that extensive.
More news.