Trump watching 7 hours of TV before starting work at noon
Posted by Josh Taylor / April 25, 2020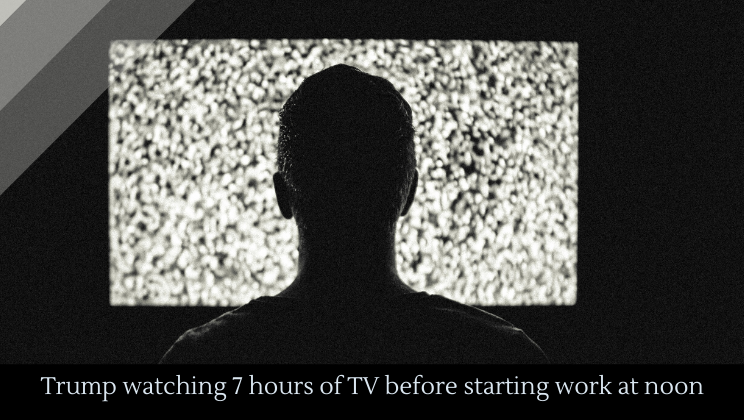 Trump is apparently getting very upset about the media coverage of his disastrous COVID updates. He's watching TV for seven hours straight, behaving even more erratically, and cutting calls with advisors short.
Trump is right to be worried and angry.Trump's ratings have dropped to pre-coronavirus levels, largely as a result of his daily briefings, and it's no wonder––after the most recent meeting, in which Trump suggested the injection (as in, into your veins, where your blood lives) of disinfectant, those ratings are likely to suffer more. Manufacturers of bleach and other disinfectants are warning their consumers not to attempt to inject or injest any of their products or risk, you know, horribly painful death.
Trump's approval ratings also suffered when he gave FEMA permission to limit sale of essential goods to Canada, saying that he would use the Defense Production Act to stop US companies from selling personal protective equipment, such as N95 masks, and other medical equipment to Canada. Trump also directly asked 3M not to sell N95 masks to Canada.
Something strange might be happening in the American political landscape. An overwhelming majority of Americans, 81%, say that lockdown restrictions should not be lifted if it means coronavirus will spread.
President Trump sent a series of tweets urging citizens to violate Democratic governors' stay-at-home orders. Jay Inslee has called the tweets "unhinged" and "illegal," since they're calling for domestic insurrection. Protestors indeed gathered to call for "Liberation," per Trump's tweets, but the numbers were tiny.
Nevertheless, that small number can spread COVID like crazy. The deaths from gatherings like this would, most likely, impact the elderly––who predominately vote for Trump. Should they be unable to vote, the political landscape could shift in favor of Biden, even in pro-Trump states, according to a recent study.
Another question to consider is this: is Trump actually trying to encourage insurrection, or is he doing so to obscure something else––something like corruption?
Evidence is growing that Trump's COVID response is political corruption.
According to a recent ProPublica investigation, the Trump administration pushed FEMA to approve contractors for a government job who never even bid, circumventing the normal process for unknown reasons.
According to a New York Times investigation, Donald Trump's family trust and some of his associates have a small stake in Sanofi, the company that makes it.
Other aspects of Trump's handling the COVID crisis are leading to cries of corruption. His briefings on the pandemic are, basically, a parade of CEOs who lavish praise on Trump. Some 57% of the U.S. population believes that the political system only works for those with money and influence…can't imagine why that is.