Trump's campaign manager gets 33% pay cut
Posted by Catherine Reed / September 13, 2020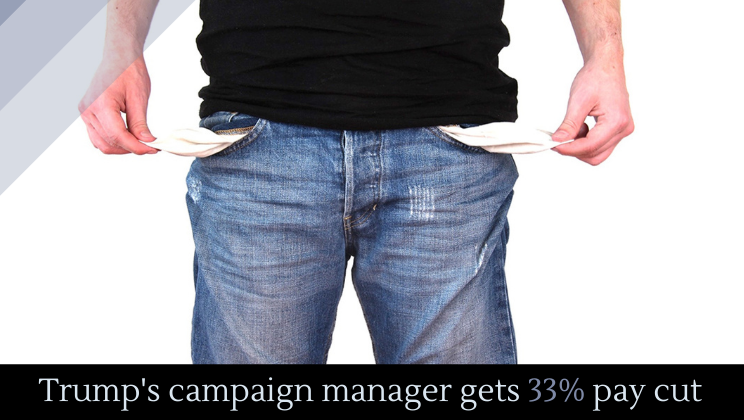 There seems to be real evidence that Trump's campaign is in some financial trouble: Trump's campaign manage has just taken a 33% pay cut.
Trump's campaign war chest for 2020 was a whopping $1.1 billion, but a New York Times investigation has revealed that it has already spent some $800 million. Or, more accurately, it has already squandered that money on Super Bowl ads to compete with Michael Bloomberg (remember that time Bloomberg wanted to be president) and D.C.-targeted ads that would stoke Trump's ego. If it's indeed the case that Trump 2020 is going broke, it means bad news for the campaign.
The Trump campaign has been, in the words of a recent Hill piece, flailing for months. That's because things have been going horribly for him.  The latest polls suggest that voters are much more enthusiastic about voting for Biden than they were in March––48% say they're very excited about voting for Biden. But Trump has him beat: 65% of Trump voters are very excited about him. Trump's favorability ratings––that is, how people feel about Trump––are dropping slowly but steadily.
These numbers are low, we're talking one-term president territory. H.W. Bush had a 38% approval rating in late June of his final year in office and Carter had a 31% approval. Trump's approval rating, as of June, was 38%.
Donald Trump's much-hyped return rally in Tulsa was dud. The venue could hold nearly 20,000 people, but only about 6,00 showed up. Trump was allegedly furious about the poor turnout. Trump's campaign tried to spin the poor attendance, but even Fox News didn't buy it. The mayor of Atlanta called the event an embarrassment. That rally also led to a spike in COVID cases, which is going to lead to still more bad press for Trump's typical campaign style.
More news.