Trump's Christmas gift to US: 653 point Dow drop and a trade war
Posted by Josh Taylor / December 25, 2018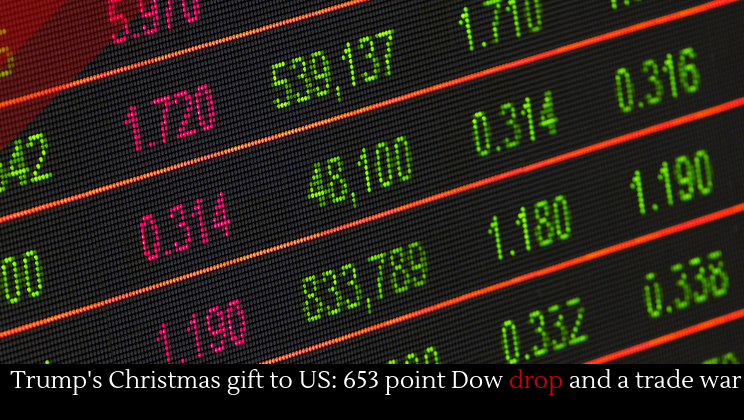 The Christmas markets closed with the sharpest drop since 2008, and China bought zero soy beans from the U.S. in November.
Following a brief upswing, the Dow plummeted 653 points after Trump criticized the Fed. Democrats have had harsh words for the President:
It's Christmas Eve and President Trump is plunging the country into chaos," House Minority Leader Nancy Pelosi (D-Calif.) and Senate Minority Leader Chuck Schumer (D-N.Y.) said in a joint statement. "The stock market is tanking and the president is waging a personal war on the Federal Reserve — after he just fired the Secretary of Defense.
Trump's tweet criticizing the Fed led investors to fear that he would fire the Fed chair, CNN speculates.
In addition, China bought zero soy beans from the U.S. in November, an escalation in the trade war with the U.S.
But since it is Christmas, we don't want to ruin the spirit, so let's close the news with a little Christmas poem:
'Twas the day before Christmas, when all through the land
The traders were freaking, sell tickets in hand.
The farmers were stuck with soy fields all dying,
In hopes that China would resume past levels of buying.
But the president took to twitter from his bed,
Instead of offering help, he just blamed the fed.
More news.