Trump's COVID vaccine czar owns $10m in pharma stock receiving federal funding
Posted by Annie May / May 16, 2020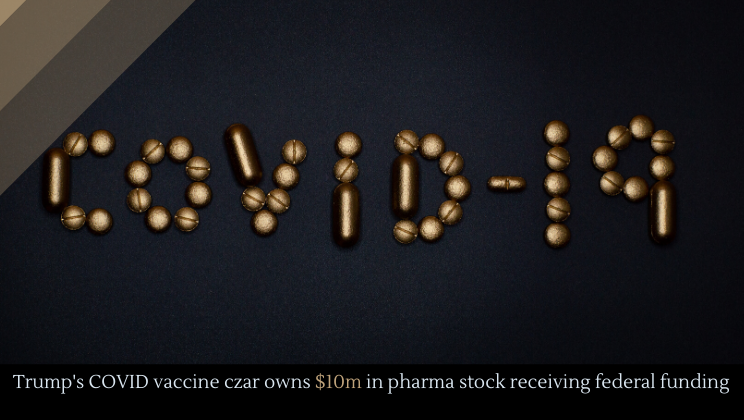 Dr. Moncef Slaoui, a former pharmaceutical executive Trump tapped to head up the government's COVID vaccine program, owns $10 million in stocks in one of the federally-funded companies working on an inoculation. This is the latest example of how Trump is benefitting financially from his office.
Since Trump took office, the U.S. government––that is, you the taxpayer––has paid Trump's company nearly a million dollars in room rentals and other expenses.
And though Trump's reelection campaign is only really just getting starting, his campaign manager Brad Parscale has already had $40m paid to his companies from the campaign. Parscale isn't the only one making hay out of Trump.
Billionaire Liz Uihlein, an economic advisor to President Trump and a GOP mega-donor, has not only been telling lawmakers to end the stay-at-home orders so she can make more money but also has been asking her employees to sign a petition to recall her democratic governor. This is part of an ongoing effort by Republicans to end the lockdown.
Protestors gathered in a few state capitals around the nation, including Minnesota, Texas, and Maryland. They risked contracting COVID to protest the "tyrannical" lockdown orders aimed at slowing the spread of the coronavirus. These gatherings, in which protestors held up signs calling for the firing of Dr. Fauci, show that Trump's attempts to distract from his poor response and potential corruption are working.
President Trump sent the series of tweets urging citizens to violate Democratic governors' stay-at-home orders late last week. Jay Inslee has called the tweets "unhinged" and "illegal," since they're calling for domestic insurrection.  What we wonder is this: is Trump actually trying to encourage insurrection, or is he doing so to obscure something else––something like corruption?
Evidence is growing that Trump's COVID response is political corruption.
According to a recent ProPublica investigation, the Trump administration pushed FEMA to approve contractors for a government job who never even bid, circumventing the normal process for unknown reasons.
According to a New York Times investigation, Donald Trump's family trust and some of his associates have a small stake in Sanofi, the company that makes it.
Other aspects of Trump's handling the COVID crisis are leading to cries of corruption. His briefings on the pandemic are, basically, a parade of CEOs who lavish praise on Trump. Some 57% of the U.S. population believes that the political system only works for those with money and influence…can't imagine why that is.
More news.