Trump's response to the George Floyd killing was disastrous
Posted by Jimmy Cooper / June 1, 2020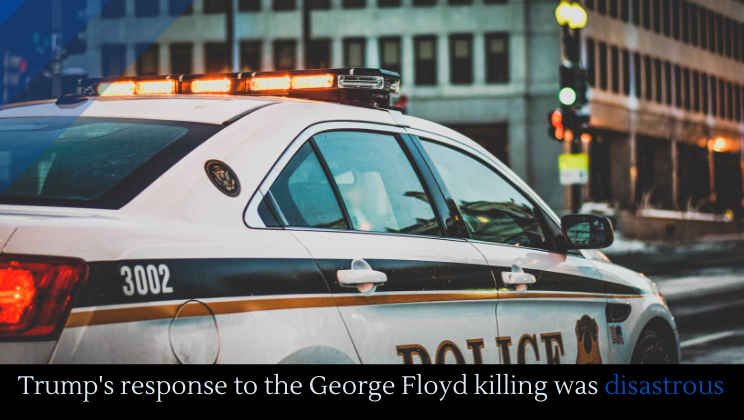 Donald Trump has just surrendered the 2020 election to Joe Biden with his absolutely botched, and potentially harmful, response to the killing of George Floyd. Even the polls  are showing Joe Biden with a 10-point lead over Trump in the 2020 race for the White House. What has made Trump's response so bad? Without focusing too much on accusations of racism against Trump, let's look at a few reasons why Trump's response will be so catastrophic to his 2020 reelection bid.
Bad PR
Ultimately, Trump has to be a politician if he wants to win political office. His 2020 win may seemed to have defied political logic, but it didn't––it was basic populism. The problem is, most pundits didn't realize that there are two very different populations in the United States in 2016, one of which loved Trump. That hasn't changed, but Trump's bungling of the George Floyd response has led to riots in cities across the United States, many of which have involved violent police responses to peaceful protests. Trump called George Floyd's brother in a bid to garner some good PR, but he bungled that too––George Floyd's brother said that Trump was dismissive on the call and didn't give him a chance to speak.
Bad Leadership
I don't think it's fair to blame Trump for George Floyd's death. It's fair to say that Trump is connected to networks of institutional racism that ultimately lead to Floyd's death, but that is far from direct responsibility. So let's set that aside for now. Even if we do that, however, we have to confront the simple fact that Trump's response was so bad that it may have exacerbated the riots around the country. The mayor of Atlanta has even begged Trump just to stop talking altogether––silence would be better than his inflammatory ramblings. Cornel West has said that "we're witnessing the collapse of the legitimacy of leadership."
More news.