It turns out TikTok users were trolling Trump
Posted by Annie May / June 17, 2020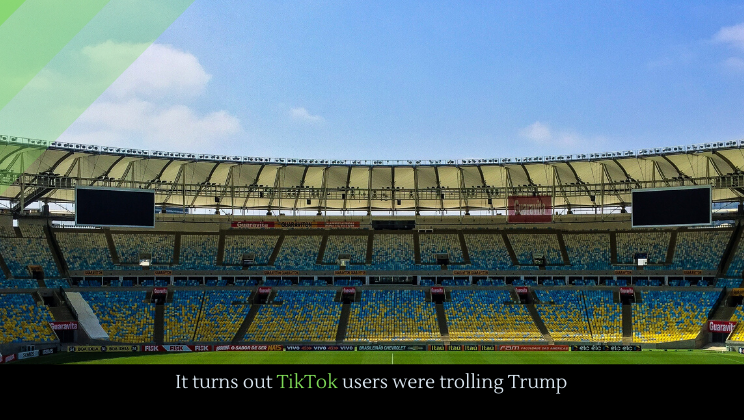 Trump claimed that a million people requested tickets for his upcoming Tulsa rally. The only problem is, that's 2.5 times the population of the city. It turns out, these applications are basically a way for the campaign to get peoples' emails. And what's more, the Tulsa World published an editorial saying Trump shouldn't come to the city for fear of spreading COVID.
So what's going on? It turns out that TikTok users are trying to troll Trump by signing up for seats and then not showing up. Their aim is for Trump to show up to an empty arena and embarrass him.
In talks with aides, Trump has dismissed the protestors from around the nation saying that they're not his voters. He's doing the bare minimum to appease the protestors, like postponing his planned Juneteenth rally, but these comments show that all he cares about is getting reelected, even if that comes at dividing the nation.
Think about the series of surprise rallies Trump just announced. Anyone who wants to go has to sign a document waiving their right to sue if they get COVID. Those waivers are definitely necessary since COVID-19 is on the rise in the United States again.
Politically, it's very stupid for Trump to spend so much time and energy on these rallies. Without a more diverse coalition, the GOP will lose the Senate in 2020. Also, consider the fact that Trump is bringing groups of supporters together in close, indoor quarters where they're more likely to get COVID. If even a small percentage of rally-goers get the 'rona, they're bound to lose steam in the support of Trump.
And the thing is, the waivers show that Trump just doesn't care. He knows that there is a risk, but he's so focused on whipping up his base to vote for him. He should be trying to bring the nation together in this time of turmoil.
More news.