Twitter labels Trump video manipulated
Posted by Ivan Vaquero / June 20, 2020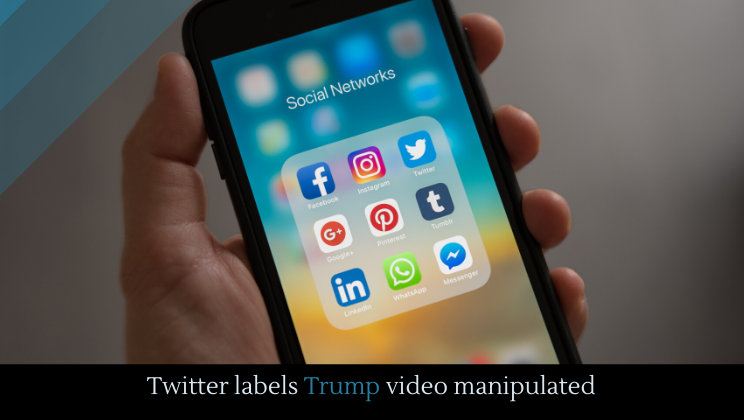 Twitter has continued its war against misinformation––or, against the president––by attaching another label to the President's tweets. This time, Trump tweeted out a doctored video, which Twitter labeled as manipulated.
The feud began when Trump took to twitter to complain about twitter, tweeting out a message heard 'round the world:
Republicans feel that Social Media Platforms totally silence conservatives voices. We will strongly regulate, or close them down, before we can ever allow this to happen. We saw what they attempted to do, and failed, in 2016. We can't let a more sophisticated version of that….
Then he signed an executive order targeting social media, which, according to the New York Times, might actually backfire on him. Twitter CEO Jack Dorsey warned that the company would continue to fact check any information related to elections.
And then, following the violence in Minnesota, Trump tweeted this:
….These THUGS are dishonoring the memory of George Floyd, and I won't let that happen. Just spoke to Governor Tim Walz and told him that the Military is with him all the way. Any difficulty and we will assume control but, when the looting starts, the shooting starts. Thank you!
Twitter escalated by hiding the post under this warning, signaling a major escalation in the battle with Trump:
This Tweet violates our policies regarding the glorification of violence based on the historical context of the last line, its connection to violence, and the risk it could inspire similar actions today.
As of Memorial Day, Trump's disapproval rating is at a whopping 53.5%, and his approval rating is down to 42.7%. According to a different poll, 53% of Americans disapproved "strongly" or "somewhat" with Trump's handling of COVID.
But you don't even have to look at polls to know that, you can look at his behavior. The more he lashes out, especially at women, the worse he's doing. Lately, he's taken to retweeting sexism-laden taunts (including the word "skank") towards Hillary Clinton (good lord, LET IT GO people, it was 4 years ago) and Nancy Pelosi.