Ukraine launches counteroffensive
Posted by Jimmy Cooper / March 26, 2022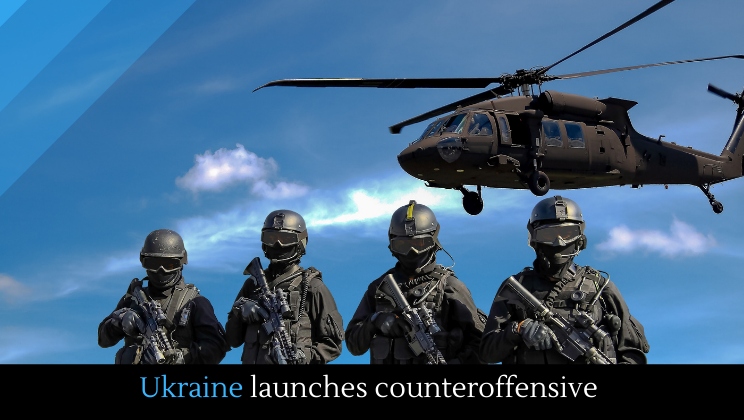 Ukraine has launched a counteroffensive, surrounding some 10,000 Russian troops who lack food and other supplies. Eliot Cohen, professor at The Johns Hopkins University School of Advanced International Studies, says that it's time media start reporting what he sees at the inevitable: Ukraine is winning the war.
Ukrainian troops captured what looks to be part of a Krasukha-4 mobile electronic warfare system.
Putin is rumored to be purging the Kremlin of officials he blames for the faltering invasion of the Ukraine. The Russian army's inability to swiftly conquer Ukraine has led to a number of internal struggles among Russian leaders. Sergey Beseda, head of the FSB's foreign service, has been placed under house arrest. Putin had the man arrested for failing to warn him of the stiff resistance Russia would face in the Ukraine.
Internal pressure is mounting against the Russian war. Children of oligarchs are taking to social media to protest the war, and a Russian priest has been arrested for delivering an anti-war sermon.
A Russian oligarch has put a $1 million bounty on Putin, signaling a massive shift in sentiments in Russia.
According to a Ukrainian intelligence report, Putin is "furious' that the Ukraine invasion hasn't been "easy." US officials have also reported that Putin is lashing out at his inner circle out of frustration.
The international community is sending Russia thousands of weapons and units of ammunition as Russia steps up its attacks. Yesterday, the president of Ukraine has rejected an offer of evacuation from the United States government. "The fight is here; I need ammunition, not a ride," Zelensky said.
President Biden used the word "invasion" in describing the recent Russian military moves, signaling an intensification of the conflict. Western leaders quickly announced a series of sanctions against Russia, while the Ukrainian government has begun drafting reservists aged 18-60..
Russian President Vladimir Putin has ordered troops into Ukrainian separatists regions, Putin justified the move by citing alleged Ukrainian attacks on Russia––which Kyiv claims is a total fallacy.
US intelligence suggested that Russian commanders had orders to invade Ukraine earlier this week. Last week, Biden said that he is now convinced Putin will invade the Ukraine, but even still he is leaving the door open for diplomacy.
The Russian military is holding drills near Ukraine, saying the talks with the United States are "on the floor."
International insurance companies will no longer cover flights traveling through Ukrainian airspace, meaning flights that do so will be grounded or canceled.
The United States is evacuating most of its Ukraine embassy staff over fears of an imminent Russian invasion. New intelligence suggests that Russia is prepared to invade the Ukraine before the Olympics end. Allegedly, intelligence services came across a detailed plan for the Russian invasion of Ukraine on February 16. The United States has sent 3,000 more troops to Poland.
At the same time, President Biden and other leaders are seeking a diplomatic solutions to the mounting conflict in the Ukraine. Biden called the Russian Presider Vladimir Putin to warn him that any invasion would result in "swift and severe" cost to Russia, not only in terms of human suffering but also in terms of Russia's reputation on the international arena.
Earlier sources suggested that Russia would wait until the Olympics were over. The Russian Navy has sent 30 ships to the Black Sea for military exercises, which is of course exacerbating the already high tensions. Countries around the world have begun encouraging their nationals to leave the Ukraine as a result. The British, Norwegian, and German governments all encouraged their citizens to leave the Ukraine. Israel has begun evacuating its embassy staff and has also issued a travel warning. Even Russia is evacuating its embassy staff.
More news.