Warren calls Trump-Zuckerberg dinner open corruption
Posted by Annie May / November 22, 2019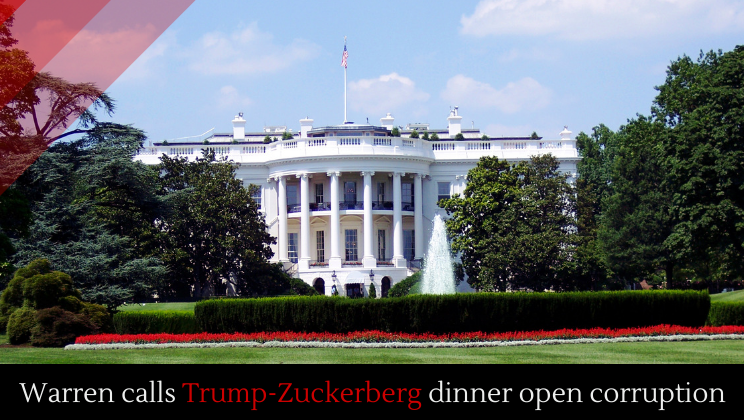 So it turns out that Mark Zuckerberg had a secret dinner at the White House. Your first reaction to that might rightly be: so what? Let the guy have dinner. Except here's the problem. Facebook is under scrutiny for potentially violating antitrust legislation, and Elizabeth Warren thinks that Zuckerberg is "going on a charm offensive." Facebook spokespeople said that such a dinner is normal, however.
Warren is right to go after Facebook, after all, Facebook is going after her. Zuckerberg was recorded calling Elizabeth Warren's campaign an "existential" threat to Facebook. Zuckerberg also met with Donald Trump, after which Facebook announced it would no longer fact check or otherwise censor political content. Coincidence? Warren doesn't think so. In a series of tweets, she called out Facebook for its political bias.
Facebook's attempt to weed out the toxic, fake news articles is highly questionable, and not just because it's run by someone with open bias. The head of its news partnerships, Campbell Brown, cofounded a website that publishes anti-Warren ads. Facebook also faced backlash after it included the infamous news site Breitbart on its new "high quality" news tab. That news outlet has been widely criticized for posting extremist, "alt-right" content and conspiracy theories.
More tech.