White House deliberate buried CDC report with reopening guidelines
Posted by Josh Taylor / May 9, 2020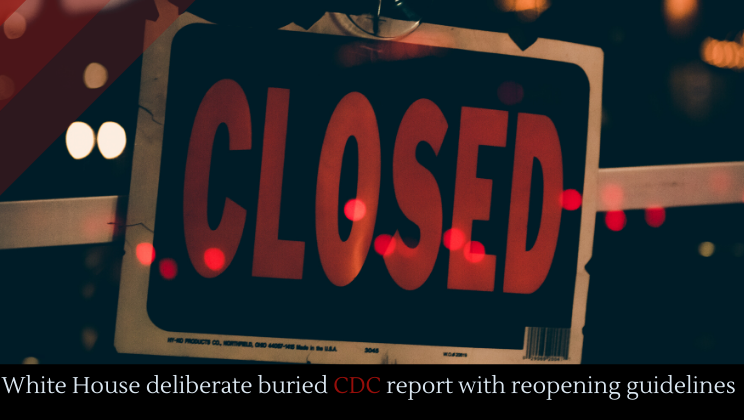 According to an exclusive report by the Associated Press, high-level members of the Trump administration intentionally shelved and buried a CDC report with guidelines for safely reopening the country. The document, entitled "Guidance for Implementing the Opening Up America Again Framework," was meant to help business owners, educators, and faith leaders open safely. After a back-and-forth with top White House officials, the document was killed.
New York governor Andrew Cuomo says that he refuses to open up New York's economy if it means sacrificing lives, calling the calculus absurd. Meanwhile President Trump continues to push for opening the U.S. economy regardless of the cost.
A recent poll shows that citizens in all 50 states think their governors are handling the COVID pandemic better than President Trump. Considering that these governors are making the final decisions about how to proceed and thus are on the front lines for dissatisfaction, this does not bode well for Trump's reelection hopes.
According to a recent survey, 51% of respondents did not approve of Trump's handling of the coronavirus pandemic. Only 43% said they approved. This represents a 22 point drop in Trump's net approval rating for his handling of the virus.
A Pew Research survey similarly reveals that the American public thinks Trump did a poor job handling the COVID crisis. 65% of Americans think Trump was too slow in responding to the crisis. Polls also reveal that Americans are more concerned that the country will be "opened for business" too soon, as opposed to too late, explicitly contradicting Trump's statements.
Overall, the COVID crisis has been bad for Trump. Historically, in times of national crisis, Americans have rallied around the president. During 9/11, for example, George W. Bush's approval ratings spiked. Unusually, Donald Trump is not seeing the "rally around the flag" effect. His approval ratings briefly rose, but in the past week his ratings have dropped to pre-coronavirus levels, largely as a result of his daily briefings.
Trump's approval ratings also suffered when he gave FEMA permission to limit sale of essential goods to Canada, saying that he would use the Defense Production Act to stop US companies from selling personal protective equipment, such as N95 masks, and other medical equipment to Canada. Trump also directly asked 3M not to sell N95 masks to Canada.
More news.