2 Republican Senators turn on Trump
Posted by Josh Taylor / January 10, 2020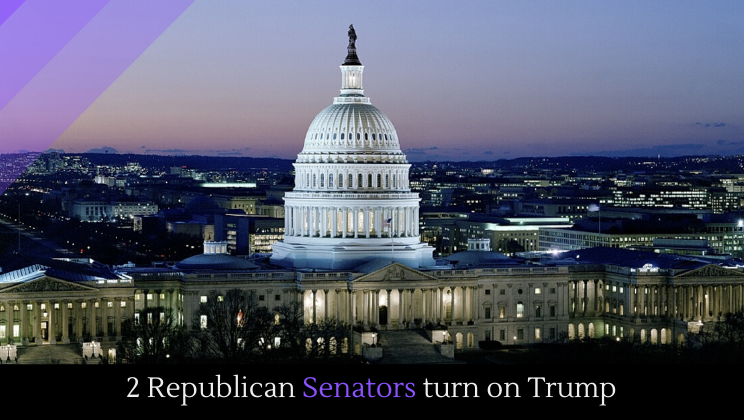 Two Senators, historically loyal to Trump, have openly––and fairly harshly––criticized him for his administration's briefing on the Iran attack.
Senator Mike Lee from Utah said it was "probably the worst briefing I've seen, at least on military issues in the nine years I've served in the United States Senate" Rand Paul said, "In the briefing and in public, this administration has argued that the vote to topple Saddam Hussein in 2002 applies to military action in Iraq. That is absurd. Nobody in their right mind, with a straight face, with an ounce of honesty, can argue when Congress voted to go after Saddam Hussein in 2002, that authorized military force against an Iranian general 18 years later."
Trump is gradually alienating Republicans. Rep. Justin Amash of Michigan Republican supported Trump's impeachment, for example. In a tweet, Amash made the following stunning statement:
"Here are my principal conclusions:
1. Attorney General Barr has deliberately misrepresented Mueller's report.
2. President Trump has engaged in impeachable conduct.
3. Partisanship has eroded our system of checks and balances.
4. Few members of Congress have read the report."
Michael Gerson, former speechwriter for President George W. Bush, wrote in a Washington Post op-ed that House leader should begin laying groundwork for impeachment. He argues that it is their duty as government leaders, and their failure to do so would invite other foreign governments (besides Russia) to meddle in U.S. elections.
In response to all this, Trump has he said that he would "head to the Supreme Court" to try to block impeachment. As anyone with even vague memories of middle school civics class knows, however, the Supreme Court has nothing to do with impeachment.
Others believe that Trump investigations should continue, but perhaps not along the impeachment line. S.E. Cupp, a conservative host on the otherwise liberal CNN, has said, "This president is unfit to lead. He has shown time and time again his utter disdain for our democratic process, separation of powers, the law. He's got to go. But not by impeachment."
More news.