Children suffer in Chinese crackdown on Muslim minority
Posted by Jimmy Cooper / December 30, 2019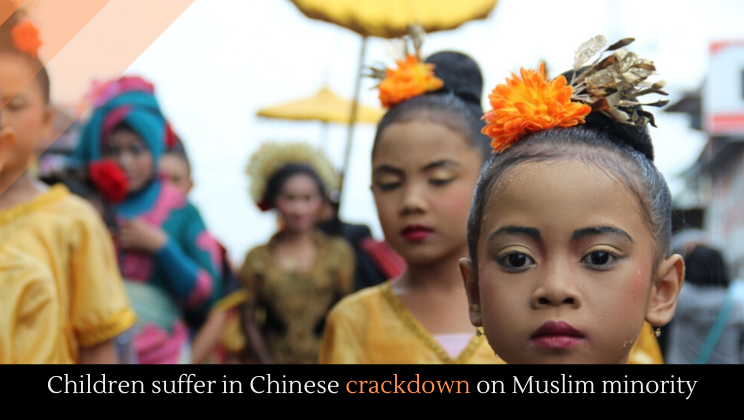 There has been, by now, a good amount of news coverage of the ongoing (cultural) genocide of the Uighur people in Xinjiang, China. But the New York Times has just opened a new element of the equation that has been, until now, ignored: the children of Chinese Muslims sent to detention camps. While the parents are being tortured, their children are left alone, placed in boarding to indoctrinate them to the Chinese Communist Party.
The extent of the attacks on the Uighur people were brought to light by Asiye Abdulaheb, a whistleblower from Xinjiang, released 24-pages of documents that prove the accusations about Chinese treatment of the Uighur people is true.
China is trying to crack down on information leaks about its genocidal campaign against the Uighur people. The move comes amid growing international outcry and Chinese attempts to dodge the accusations.
China has claimed that all the Uighur Muslims and Kazakhs it has imprisoned in concentration camps have "graduated" and are happy. Family members of the detained, however, say that their relatives are still missing.
China is liking making this claim after massive outcries via new media. First, A teenage girl used the Chinese-owned app TikTok to denounce what she called another Holocaust, which the Chinese government is perpetrating against the Uighur people. The app banned her, but unbanned her after international outcry.
Second, "What has happened to me," a manga (anime comic book) by Japanese artist Tomomi Shimizu has gone viral. The manga depicts the story of a Uighur woman who was detained and tortured in a Chinese concentration camp. There are more than a million Uighur people being held without trial in China.
Although the Chinese government has denied or downplayed its near-genocidal policy against the predominately Muslim ethnic minority, the Uighur. But recently leaked files, the largest such leak from within the Chinese Communist Party in decades, reveal that Chinese officials carefully orchestrated an extreme crackdown against the Uighur people in the far western province of Xinjiang.
According to the Chinese government, the Uighur––or at least some Uighur––are violent, anti-Chinese extremists. This is the same reason they gave for the Sinicization of Tibet. Recently, millions of Chinese citizens have forcibly moved into Uighur homes in order to "to report on whether they display Islamic or unpatriotic beliefs."
Recent images and videos have revealed that China's "re-education" camps are far more brutal than previously suspected. One video, posted anonymously on both Twitter and YouTube, shows blindfolded and shackled prisoners in a largely Muslim region of China. This adds to the evidence that China is attempting to wipe out, one way or another, its Muslim population. Another recent report revealed that women are sterilized and raped in those camps. A UN Human Rights Council was also told that China is harvesting organs from its ethnic minorities.
According to the most recent accusations, a Muslim woman, described gang rapes, torture, and medical experimentation. She also insinuated that the prisoners killed uncooperative inmates.
If that isn't bad enough, the Chinese government is also attempting to erase all evidence of the Uighurs' existence by destroying graveyards in which generations of Uighurs are buried.
More news.