Chinese military hacked Equifax, affecting 145+ million people
Posted by Jimmy Cooper / February 11, 2020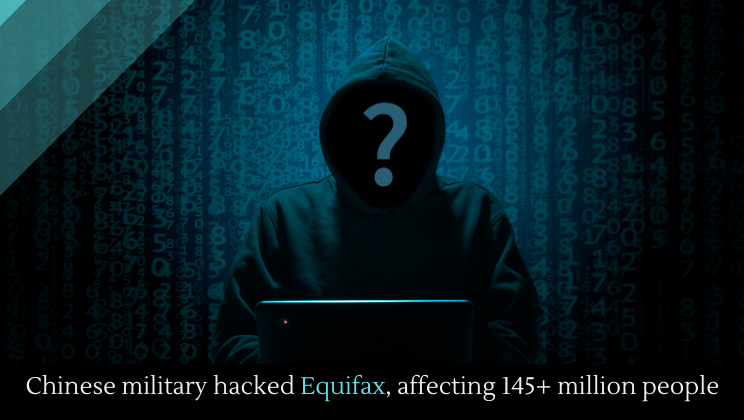 The United States has charged four members of the Chinese military with hacking into Equifax and stealing the data of 145 million people. It's the largest of many such cyber attacks against a variety of American businesses.
It's time the world stop looking the other way with China's egregious civil rights violations against its own people. It's time the world stops allowing China to dictate other nations' foreign policy by throwing around its economic weight. It's time to stop doing business with China altogether.
The Uighur are Chinese citizens, and the majority of them are Muslim. They are therefore both religiously and ethnically different from the (officially) atheist Han majority. China has done this before––it has actively pursued policies that "Sinicize" Tibet, who are both ethnically and religious different from the Han majority.
According to the Chinese government, the Uighur––or at least some Uighur––are violent, anti-Chinese extremists. This is the same reason they gave for the Sinicization of Tibet. Recently, millions of Chinese citizens have forcibly moved into Uighur homes in order to "to report on whether they display Islamic or unpatriotic beliefs."
Recent images and videos have revealed that China is imprisoning its Uighur population in "re-education" camps. One video, posted anonymously on both Twitter and YouTube, shows blindfolded and shackled prisoners in a largely Muslim region of China. This adds to the evidence that China is attempting to wipe out, one way or another, its Muslim population. Another recent report revealed that women are sterilized and raped in those camps. A UN Human Rights Council was also told that China is harvesting organs from its ethnic minorities.
If that isn't bad enough, the Chinese government is also attempting to erase all evidence of the Uighurs' existence by destroying graveyards in which generations of Uighurs are buried.
China is using its economic power to bully the world. The gaming company Blizzard is facing massive online backlash after pulling a player, Chung "Blitzchung" Ng Wai, from a tournament and banning him from Hearthstone esports for a month. They also revoked his prize money.
Blizzard claimed that Blitzchung's statement brought into "public disrepute, offends a portion or group of the public or otherwise damages" the company's reputation. What did Blitzchung do? He said "Liberate Hong Kong, revolution of our age!" in a post-game interview. Blizzard employees staged a walkout in protest.
Blizzard is partially owned by the Chinese company Tencent, which accounts for its intense response to Blitzchung. The company's blatant pro-China bias raised eyebrows, especially on Reddit––which has already been accused of pandering to Chinese interests. One user (in the /r/Conspiracy" subreddit) pointed out that multiple posts about the Blitzchung incident––as well as the South Park incident earlier this week––have been removed from the front page of Reddit.
More news.