Coronavirus spreads to 26 U.S. states and Xinjiang China, endangering imprisoned Uighurs
Posted by Josh Taylor / January 30, 2020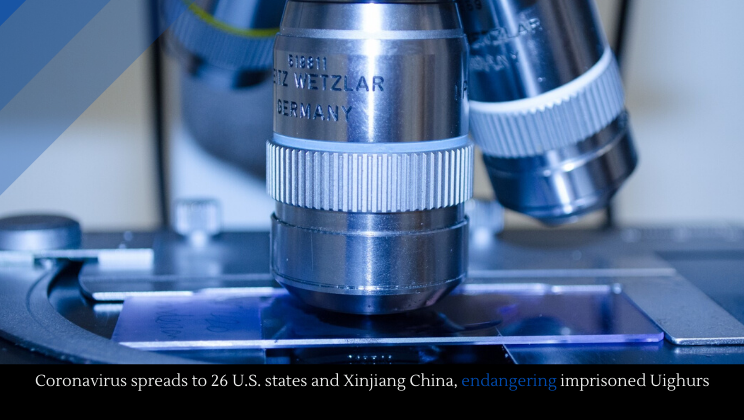 The CDC is currently monitoring 110 possible cases of coronavirus across 26 states. Although the spread seems rapid, the CDC says that the danger is still low, and that people should not worry––yet.
Things are looking much more grim in China, where it has spread to Xinjiang, the province containing Uighur concentration camps. The camps are filthy, and if coronavirus infects even one person there, it could spread like wildfire.
The number of known cases of coronavirus has risen by almost a third overnight, and a lack of test kits has some fearing the number could be much higher. What's worse, Japan and Germany have just confirmed patients who have not been to China have the disease.
According to a scientist who simulated just such and outbreak, we're too late. It's like, he said, that the "cat's already out of the bag" and China's efforts to maintain the outbreak are "unlikely to be effective."
Hong Kong is banning visitors from the Chinese province that saw the initial outbreak. But they're probably fighting a losing battle. Canada has probably already seen its first case of the coronavirus. A man in his 50s became seriously ill after returning from a trip to Wuhan, China. Unfortunately, Chinese scientists have determined that the virus spreads before symptoms present, so the man likely spread the virus as he traveled.
That would explain, in part, how cases have already been reported in the United States as well. Orange County confirmed it's first case this weekend, for example, and someone is currently being treated in Seattle (mostly by robots). There are also cases in Europe. The UK is currently trying to track down some 2,000 people who traveled from Wuhan.
There is evidence that China deliberately downplayed the seriousness of the virus, which undoubtedly contributed to its international spread and contributed to the deaths of 56 people so far.
More news.