#ILeftTheGOP trends, signaling minor Republican exodus
Posted by Josh Taylor / January 28, 2020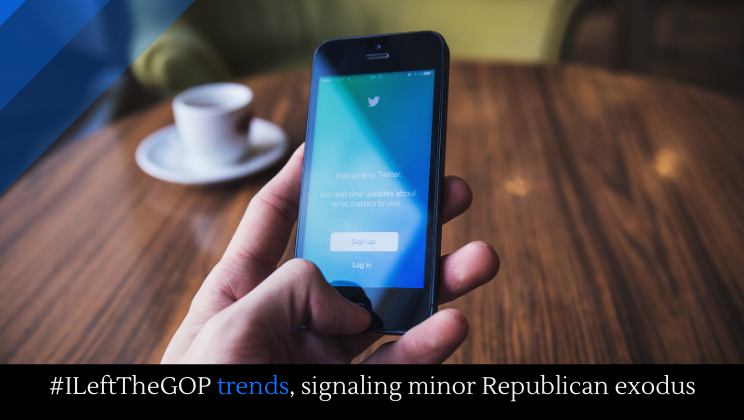 The hashtag #ILeftTheGOP was among the top trending tags on Twitter early this week, offering a trove of information for why people are leaving.
Author Susan Bragwell said she left the GOP when it became a group of "bootlicking, compromised, spineless, faithless, big government lackeys and cultists for an immoral, inept, would-be mob boss."
Dean Obeidallah, a radio host and comedian, said: "Trump is the GOP and GOP is Trump. Supporting Trump means you support Trump's cruel demeaning of women who have been abused, his demonization of Muslims and continued use of anti-Semitic tropes, his anti-LGBTQ policies, his hateful comments about Blacks and Latinos. Donald Trump not only self-impeached himself, he's now self-removing himself with his lies."
Many users expressed the feeling that the GOP left them, not the other way around.
Trump is indeedgradually alienating Republicans. Rep. Justin Amash of Michigan Republican supported Trump's impeachment, for example. In a tweet, Amash made the following stunning statement:
"Here are my principal conclusions:
1. Attorney General Barr has deliberately misrepresented Mueller's report.
2. President Trump has engaged in impeachable conduct.
3. Partisanship has eroded our system of checks and balances.
4. Few members of Congress have read the report."
Michael Gerson, former speechwriter for President George W. Bush, wrote in a Washington Post op-ed that House leader should begin laying groundwork for impeachment. He argues that it is their duty as government leaders, and their failure to do so would invite other foreign governments (besides Russia) to meddle in U.S. elections.
More news.