Support for impeachment growing
Posted by Jimmy Cooper / October 7, 2019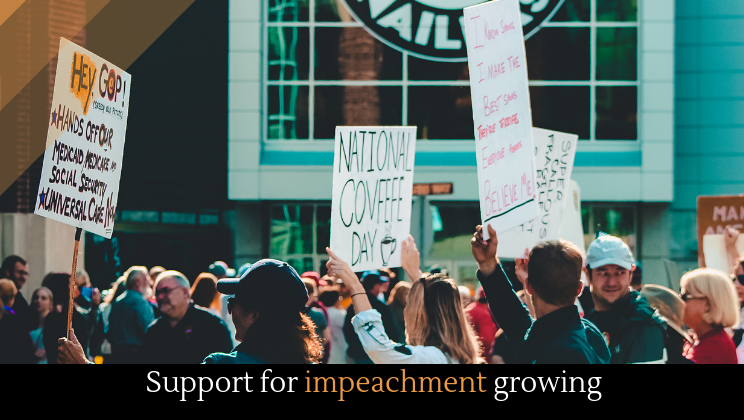 Public support for impeaching Trump is higher than both Nixon and Clinton during their impeachments. And, according to new polls, support for impeaching Trump is on the rise.
An ABC News-Ipsos survey reveals that 60% of Americans think that it's a serious problem that Trump asked the Ukrainian president to investigate Joe Biden. Only 36% of respondents say it's not serious. A YouGov poll, meanwhile, shows that 55% of Americans think the impeachment probe is necessary, while 45% think it is unnecessary.
Another poll shows support for impeachment proceedings against Donald Trump has risen 12 points since three months ago. Opposition to impeachment dropped 3 points.
Last week, speaker of the House Nancy Pelosi announced formal impeachment inquiries into President Donald Trump.
"I'm announcing that the House of Representatives is moving forward with an official impeachment inquiry. I'm directing our six committees to proceed with their investigations under that umbrella of impeachment inquiry," Pelosi said in the announcement.
The move comes after Donald Trump admitted to speaking with the Ukrainian president and suggesting he look into the Trump's rival, Joseph Biden. As the New York Times points out, Pelosi's announcement ends months of caution on the Democrat's part, and signals a new aggressiveness against Trump.
Trump admitted Sunday that he spoke with the Ukrainian government about Biden.
"The conversation I had was largely congratulatory, was largely corruption, all of the corruption taking place, was largely the fact that we don't want our people like Vice President Biden and his son [contributing] to the corruption already in Ukraine," he said.
Several news publications called for Trump's impeachment again, including The Talking Points Memo and The Washington Post. Senator Elizabeth Warren reiterated her own calls, calling Congress complicit before Pelosi's announcement.
Bill Weld, a Republican Party primary challenger, accused Donald Trump of treason for urging Ukraine to meddle in the 2020 elections.
"Talk about pressuring a foreign country to interfere with and control a U.S. election," Weld said, "It couldn't be clearer, and that's not just undermining democratic institutions. That is treason. It's treason, pure and simple, and the penalty for treason under the U.S. code is death. That's the only penalty. "he penalty under the Constitution is removal from office, and that might look like a pretty good alternative to the president if he could work out a plea deal."